Today is Melbourne Cup Day. Billed as the race that stops two nations, it is watched by the majority of people in Australia and New Zealand, and gazetted as a public holiday in metropolitan Melbourne, some parts of regional Victoria and the Australian Capital Territory where it is known as the Family and Community Day since 2007 (Ref 1). It is a colourful sight to see men and women, dressed to kill, boarding trains bound for Flemington Racecourse. I was told that the ladies would spend a fortune on their dresses and hats/fascinators, just for this day. I also learnt from my colleagues that for many people, betting is not the main reason for attending the Cup. They go there to socialize, date, drink and impress.
Altona Coastal Park is the site for the former Williamstown Racecourse, which was home to the Williamstown Racing Club and its Cup. The Williamstown Cup, first held in 1888 and annually in November, was ranked third in importance behind the Melbourne Cup and the Caulfield Cup (Ref 2). Winning this cup was considered a consolation if the horse failed to perform at the Melbourne Cup. The Racecourse was serviced by the now demolished Williamstown Racecourse Train Station, which was located between Kororoit Creek and Kororoit Creek Road level crossing (Ref 3).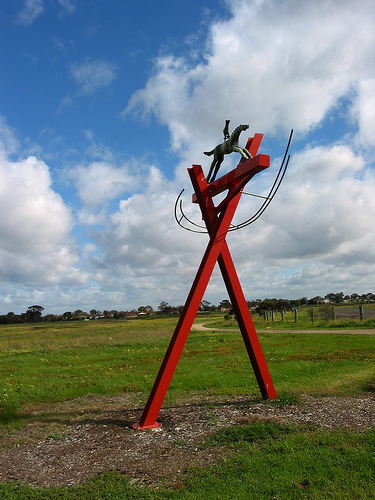 In 1940, the Williamstown Racecourse was converted to an army camp during World War II. It did not reopen and in 1948, the Williamstown Racing Club merged with the Victorian Trotting and Racing Association to form the Melbourne Racing Club. The Williamstown Cup continued to be held at other metropolitan racecourses – at Flemington in the 1940s, at Caulfield in the 1950s, at Moonee Valley in 1956 and finally at Sandown (Ref 4). In 1962, it was renamed the Sandown Cup, which was again renamed to Sandown Classic in 1999 (Ref 5). The Sandown Classic will be held on Saturday 13 November this year (Ref 6).
It is a coincidence that I put in an offer for a house not too far away from the Sandown Racecourse in 2007. When this offer failed, I ended up buying in Altona which used to have a racecourse. I think I will prefer the present Altona Coastal Park rather than the past Williamstown Racecourse. I have seen horses riding through the sea water at Altona Beach and also along Belmar Avenue, one street away from where I live. I had also seen horse dungs on the pedestrian crossing at Westona Train Station. I am puzzled what these horses were doing in Altona.

Youtube video by the Altona Village Traders Association