My wife needed some time off the kids so that she can do some stuff. My son had a fever and was lethargic. So I could only bring my daughter out. I had learnt from the Altona Loop Facebook group that the trains are
again
not running this weekend. Hence, I gave up the initial thought of going to Federation Square via train to see the Christmas trees installation. Where should I go then?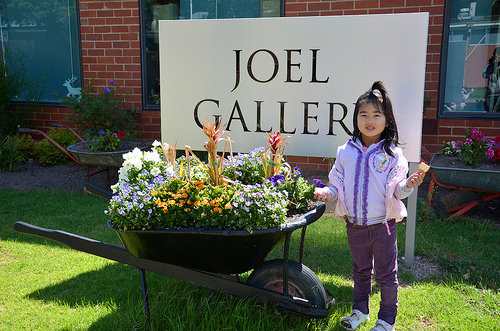 Wheelbarrows of planted flowers outside the Louis Joel Gallery
I know from Facebook that the Hobsons Bay Mens Shed is having a car torque at 280 Queen Street, Altona from 10 a.m. to 3 p.m. so I decided to pay a visit. By the time I reached the place at 2.20 p.m., there were just two vintage cars at the carpark. I guess my daughter will not be interested so without stopping my car, I drove straight to Altona Beach. The sky was still grey at that time and it was pretty cold and windy, not a good time for outdoor activity. Louis Joel Arts Community Centre seemed to be open and without hesitation, I headed there.
The Centre was indeed holding an exhibition "After the Rains" which is an exhibition of the history, tourism and local craft of Buloke Shire. Buloke Shire is located in North West Victoria on the eastern edge of the Wimmera plains and southern Mallee. Buloke Shire Council and Hobsons Bay City Council have shared a Friendship Alliance since 2006. This exhibition is a celebration of that friendship.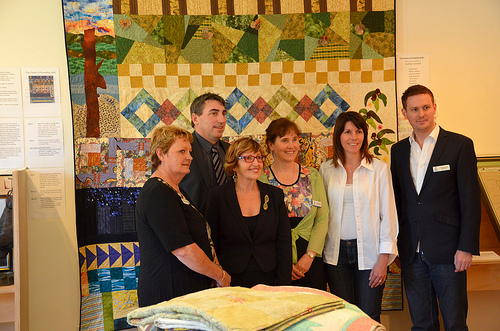 (L-R) Mayor Reid Mather (Buloke Shire), Mayor Angela Altair, Councillor Sandra Wilson, Colleen Gates, Paul Morgan
When I stepped into the gallery, apart from the Centre's Manager Jill Bolston and her assistant Kim Reilly, I immediately noticed the presence of Hobsons Bay Mayor Angela Altair and other councillors – Sandra Wilson, Colleen Gates and Paul Morgan. It was only slightly more than a week ago that I ran into them in Williamstown.
I went up and talked to Sandra, whom I know pretty well through the Altona Loop Group. She was giving me tips on how to cook kangaroo meat the last time we met. This time round, she was showing me the Mallee root that she was considering of getting as an uniquely-Australian present for her hubby's kins in New York State whom they will be visiting in a fortnight's time. The Mallee root is a porous tree root used by Australian aboriginals, scouts and hikers in the bush for a fast acting headache and sinus relief. It is a local product of the Buloke Shire.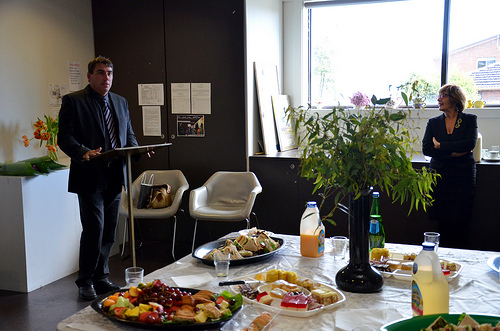 Mayor Reid Mather of Buloke Shire and Mayor Angela Altair of Hobsons Bay
Jill then beckoned everyone to proceed to the next room for refreshment. I did not expect that by visiting the Louis Joel Centre, I got to see the exhibition, meet the councillors and even have free food! Though I just had my lunch, I still helped myself to some food. My daughter was apparently contented with the serving of strawberries and candies.
I had the opportunity to talk to Colleen Gates who lives in Laverton and has a deep interest in issues pertaining to Laverton train station, such as parking, ramp access, train connections and bike facilities. She works in the eastern suburbs but still prefers living in the west.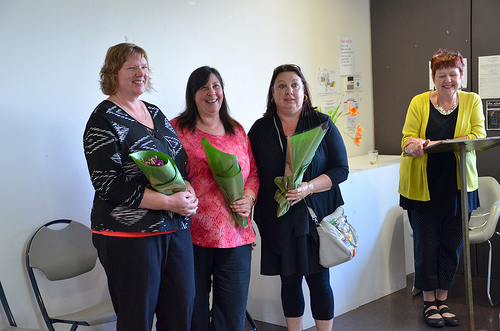 Presentation of tokens of appreciation to those involved in this project
I believe today was the last day of the exhibition and this function, which was also attended by the Mayor Reid Mather and other representatives from Buloke Shire, is to thank those who have made this exhibition a success.
In the following video, Kim Reilly recounted how the Louis Joel Community Centre had gone about helping the Buloke Shire's community in the aftermaths of their severe floods in 2011.

Pardon me for the shakiness and periodic outfocus of this video as it is not easy to hand-hold the camera for a long time and with a restless kid at your side.