Cape Nelson State Park is a 243-hectare state park, 12.3 km south of Portland's city centre. Cape Nelson was named by British navigator Lieutenant James Grant on 5 Dec 1800 after the ship Lady Nelson he was sailing on along the Victorian coast. He also named most of the region's coastal features, including Cape Bridgewater, Cape Grant, Lawrence Rock, Julia Percy Island and Portland Bay. The French renamed Cape Nelson as Cape Duquesne in 1802 but the name did not endure.
The park features high rugged cliffs, a species of eucalyptus known as soap mallee which is found nowhere else in Victoria and fauna such as the heath mouse, red-necked wallaby and echidna. The key attraction is the Cape Nelson Lighthouse.

View Portland & Cape Nelson, Victoria in a larger map
From Portland's city centre, follow Bentinck Rd south. It becomes Cape Nelson Rd once it crosses the canal bridge, then through undulating countryside. En route you will pass Nelsonberry which sells fresh brambleberries and raspberries in season.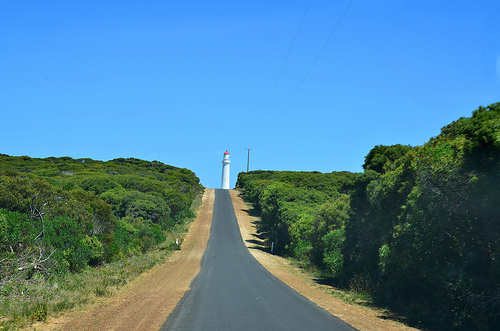 9 km from Portland, at the intersection of Cape Nelson Rd and Scenic Drive, is the signposted start of the Sea Cliff Nature Walk. A guiding leaflet is available from the box near the signpost or from Portland Information Centre. The 3-km loop track focuses on the area's natural history, leading west through scrubland, open countryside and along the cliff-line. When you reach the cliffs, you can follow a portion of the Great South Walk around the coast to the lighthouse.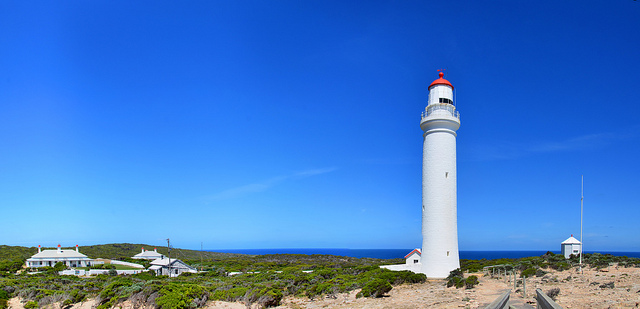 Alternatively, you can drive south for another 3 km to a carpark at the end of Cape Nelson Lighthouse Rd (GPS coordinates -38.430026, 141.542712) where you will find the Cape Nelson Lighthouse. The lighthouse was completed in 1884 and today offers accommodation in the Light Station Keepers Cottages. It also has a cafe called Isabella's Cafe.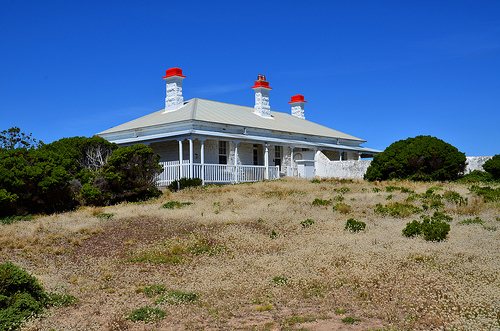 From the lighthouse, you can do the 6 km Lighthouse Nature Walk which heads north, then east to the coast. You can return to Portland via Scenic Road which branches right from Cape Nelson Lighthouse Rd. En route is a side road on the right which leads to a picnic area.
Scenic Rd (or Norman Wade Scenic Drive) will pass by the Volcanic Isles Lookout (GPS coordinates S38.396513, E141.566809) on the right where you can view the Nelson Bay and wind turbines of the Cape Nelson South Wind Farm.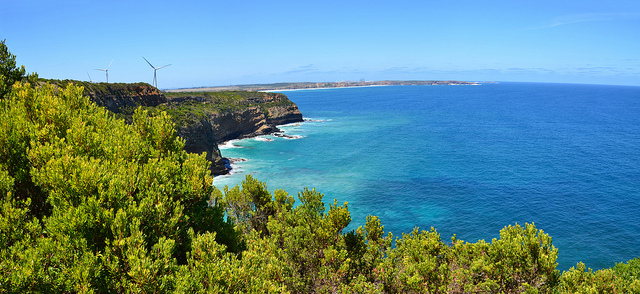 The next attraction is the Enchanted Forest also on the right. Here, an old land slip below the level of the cliff top is covered by dense vegetation.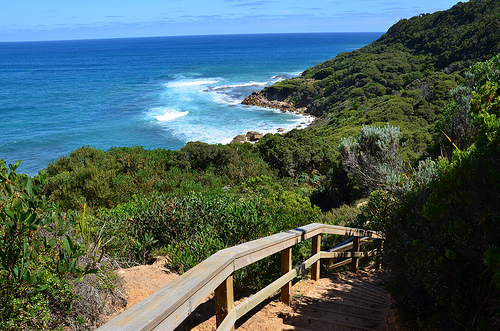 A 45-minute round trip walk from the carpark (GPS coordinates S38.39114, E141.56850) passes through the canopy to lookouts and boardwalks with views over the cliffs and ocean.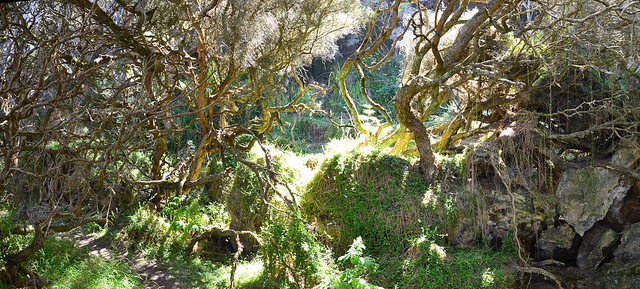 Twisted branches of Moonah trees, draped by vines and surrounded my lichen covered rocks, combine to form a slightly haunting and fairytale like setting.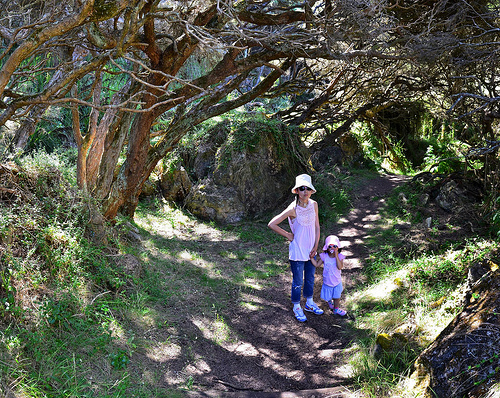 When we embarked on this walk, we decided that we could not use a pram. We asked a returning couple with a child how long the walk will take and were told that it is probably an hour return. They said they were not sure whether they have reached the destination. Upon reaching a viewing platform, they decided not to proceed further. We too had the same experience. There are no signposts to tell you where the Enchanted Forest is located or how far further you need to go. When we come to an area where the trees look like those seen in fantasy movies (see photos above), I guess we have reached the Enchanted Forest. Beyond this forest is a viewing platform and the track still continues. We decided to head back at this point. The following is a photo I took at the viewing platform.

A little further along Scenic Rd is Yellow Rock, a large limestone formation on the edge of the cliff.

This is a popular surfing area and it is a 10-minute return walk from the carpark (GPS coordinates S38.38638, E141.581931)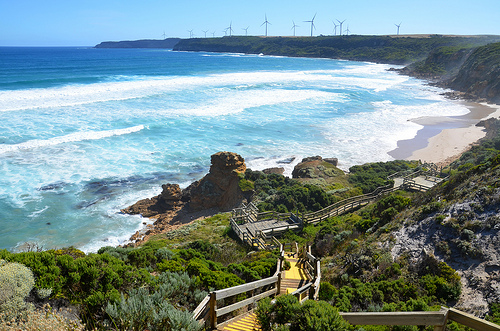 A brochure from Portland Information Centre describes a Picnic Hill Reserve in Cape Nelson that is maintained by the Friends of Cape Nelson Landcare/Coastcare. It has a walking track that leads to a platform with spectacular views of Cape Nelson Lighthouse, Nelson Bay, Lawrence Rocks, Lady Julia Percy Island, Cape Grant, Alcoa, windfarms and Portland. Picnic Hill marks the spot farthest south explorer Major Thomas Mitchell surveyed in 1836.