Last Friday 26 November 2010, my wife and I were invited to attend the AGM of the Louis Joel Arts & Community Centre, which started at 7 p.m. The art gallery was turned into a large meeting room, with neatly arranged chairs and adorned with colourful ribbons. We did not expect that there would be so many people. All the ladies and gentlemen were very formally dressed so we felt a bit out of place due to our casual attires. As we could not keep our two kids silent, I asked my wife to bring them to the Coles supermarket in Pier Street.
This was a special occasion as the Centre was celebrating its fifth birthday. The Centre is named after Dr. Louis Joel, the founder of the Altona Community Hospital, which was closed in 1996 and converted to the present Louis Joel Centre in 2005.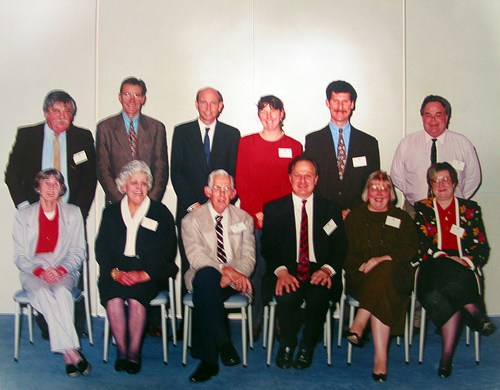 Last Board of Altona Hospital Management; photo taken in Oct 1996
The son of Dr. Louis Joel, Jack Joel and his family were invited as special guests to grace the occasion. Jack Joel shared fond memories of his father, recounting how often his father drove him in his car on the bumpy , unpaved road from their home in Williamstown to Altona Hospital to attend to emergencies. Such journeys would take an arduously long time due to the poor road conditions, despite the short distance between Williamstown and Altona. Altona at that time was a small fishing village and it was common for fishermen to suffer injuries during their fishing trips. Due to his childhood spent in Altona, Jack had developed a love for seaside living. Jack had asked his father why with his qualifications and skills, he did not choose to work in Collins Street, like what many doctors at that time would do. His father replied that the people in Altona and Williamstown required his services more than the people in downtown Melbourne.
Jack unveiled a photograph (taken in 1943) and plaque in memory of Dr Joel's dedication to the residents of Altona.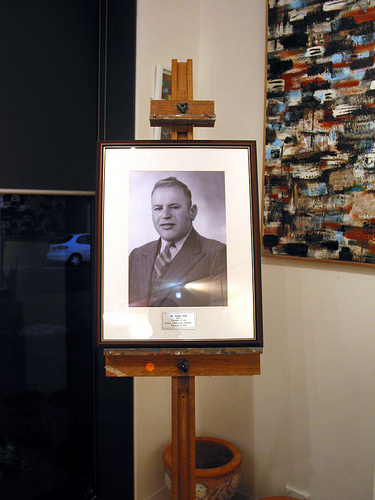 After the AGM had ended, the people convened to the adjacement room for refreshments. Old photographs of Altona Hospital and certificates were exhibited.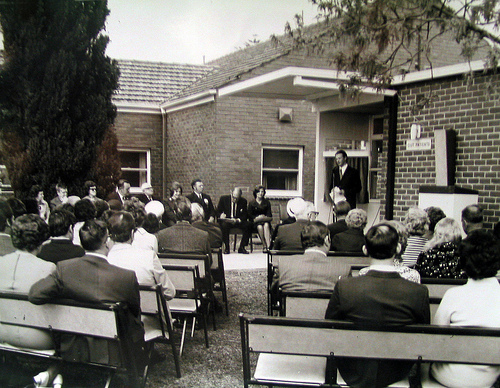 An AGM held outside the Altona Hospital
The Altona Laverton Historical Society had also loaned old photographs of Jack Louis and his sister, Estelle in front of Altona Hospital.
Jack Joel on Sister Weber's Car
at Original Altona Hospital 1935
Estelle & Jack Joel
at Original Altona Hospital 1935
People were having a good time, enjoying the food and recalling nostalgic memories.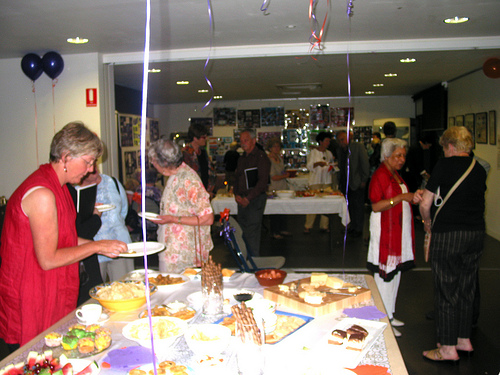 The highlight of the night came when the lights were dimmed and people were gathered together to cheer and toast for the 5th anniversary of the Centre.
Jack Joel was invited to cut the birthday cake.
I managed to capture in the photo below, the climax of the night when everyone raptured into ecstasy.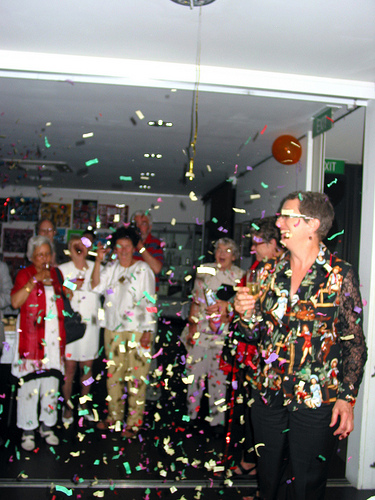 More posts on Altona Hospital and Dr. Louis Joel to come….
Acknowledgements – I will like to thank Louis Joel Arts & Community Centre and Altona Laverton Historical Society for the use of their old photographs.