I like the feeling of Spring when one can finally bid farewell to a long chilly winter and start putting warm clothings to storage. You know Spring has arrived when soil in the garden beds starts loosening and buds begin opening up into flowers. First to blossom are the flowering plums, which commonly adorn many streets of Melbourne. Different species of plant will take their turns to flower, a timing dictated by their biological clocks and in response to environmental cues.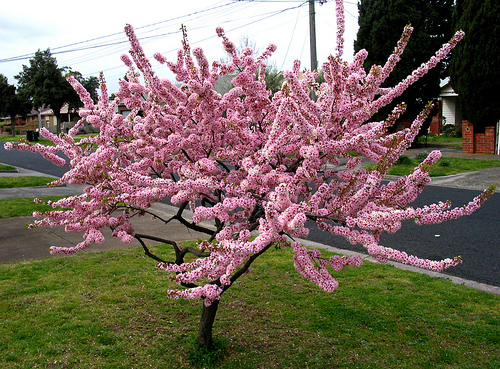 I think this is a plum. Located in Altona.
Coming from tropical Singapore, I am always excited by seasonal displays of colours, particularly that in Spring and Autumn.  Hence, I am determined not to let this Spring pass by without engaging in an immersive experience and breathing in every sounds and sights of the season. I started searching on the internet for places in Melbourne or Victoria where one could see extravagant displays of spring blossoms. However, the search turned out to be more elusive than I have expected. I will like to share in this post what I already know and what I have found but have not yet visited. I would love your contributions and am keen to explore your suggested places.

1. Bright Spring Festival
The Bright Spring Festival is a 2-week annual festival in October/November celebrating the magic of spring in Bright and the natural beauty of the Ovens, Buckland and Kiewa Valleys. It features open gardens and workshops, street and river markets, food and wine events, decorative arts exhibition, craft workshops, the famous Alpine Four Peaks Climb (for walkers and runners) and family fun days. It runs from 20 Oct to 6 Nov in 2012. The Grand Fireworks Spectacular and Concert is on Sat 3 Nov 2012.
I visited this Festival last year and a few open gardens. I was most impressed by the George and Mary Hall in Porepunkah. I also enjoyed the garden of Shady Brook Cottages at Harrietville.
Pardoning my perfectionist streak, what I find a little amiss is the opportunity to stroll through meadows of wildflowers, that I imagine to abound on high mountains, plains and valleys. All the flowers I saw were cultivated and painstakingly manicured so were lacking somewhat of an untamed touch.

2. Tesselaar Tulip Festival
You do not need to go to Holland to view its world-renowned tulips for they were brought to Melbourne by the Dutch for cultivation some 70 years ago.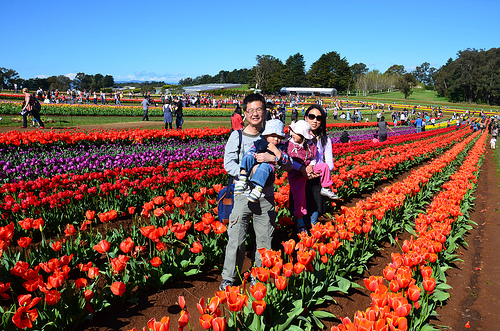 The story began in depression-era Holland as World War II loomed. Cees Tesselaar read from newspapers that exports of tulip and other bulbs to Australia were increasing. Hearing that Australia is a land of opportunity for those willing to work hard, Cees decided to give it a shot. He sold his cheese business, married Johanna and her father gave them a gift of bulbs. In 1939, they left for Australia on their honeymoon and never returned. After a few years growing gladioli, tulips and daffodils at Ferntree Gully, they moved to Silvan in the Dandenong Mountain. News of their "little piece of Holland" spread and many of the "Dutchies" immigrants who arrived during the 1950s headed straight for the Tesselaar farm where they found a place to stay and a job. Many of these immigrants stayed in the area and began their own farms so the area is today dominated by the "Dutchies" and their beloved Tulips.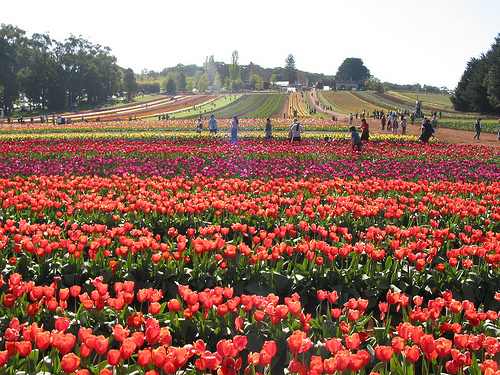 The Tesselaar Tulip Festival started by accident. By the 1940s and 50s, more people were doing weekend day trips to the Dandenong Ranges. They were all stopping at the tulip field to jump the fence for a closer look at the flowering tulips. Noticing more people every year, the entrepreneurial Cees started selling bunches of tulips to tourists. As more people came, more facilities had to be provided and this eventually turned into a full-blown four-week tulip festival featuring live entertainment, tractor rides, market stalls, a sculpture competition and theme weekends such as Turkish, Dutch, Irish and Jazz weekends.
The Silvan property is still a working farm but the one million tulip and other spring bulbs grown there are purely for the stunning floral display during the festival. Tesselaars shifted the bulk of its bulb production to Tasmania about 15 years ago, where contract growers had access to ample land and the cooler climate was better suited to bulbs.
I had visited  the Tesselaar Tulip Festival several times but was there either too early or too late and have yet to visit at the perfect time when the tulip flowers are at their peak sizes. The Tesselaar Tulip Festival runs from 13 Sep to 9 Oct in 2012.

3. National Rhododendron Garden
I brought two Chinese visitors to the Tesselaar Tulip Festival. My wife said I should bring them to the National Rhododendron Garden instead. This is because tulip farms are quite common in China while many Chinese have not seen rhododendrons, though these flowers are often quoted in Chinese songs and poetry.
Established in 1961 by the Australian Rhododendron Society, the 43-hectare National Rhododendron Gardens in Olinda are host to over 15,000 rhododendrons, 12,000 azaleas, 3,000 camellias and 250,000 daffodils. Situated on a hilltop in the scenic Dandenong Ranges, the National Rhododendron Gardens are framed by the world's tallest flowering plant, the Mountain Ash, and set against a backdrop of the blue Australian Alps. It also contains a large ornamental lake, sensory gardens, deep fern gullies and small rock gardens (Ref 3, 4).
In spring, the National Rhododendron Gardens hosts an astounding display of riotous colour. Beginning in August, the vibrant sunshine yellows of daffodils dance with the dignified blooms of camellias announcing the imminence of spring.
In September, the Cherry Tree Grove is in full bloom and is celebrated at the annual Hanami Festival (on 25th Sep this year). Hanami is the Japanese tradition of "flower viewing" but mostly refers to the celebration and appreciation of the "sakura" or cherry blossom – Japan's unofficial national flower. In keeping with tradition, visitors are treated to traditional Japanese flower arranging demonstrations, origami, ikebana and bonsai display, calligraphy demonstrations and tea making ceremonies.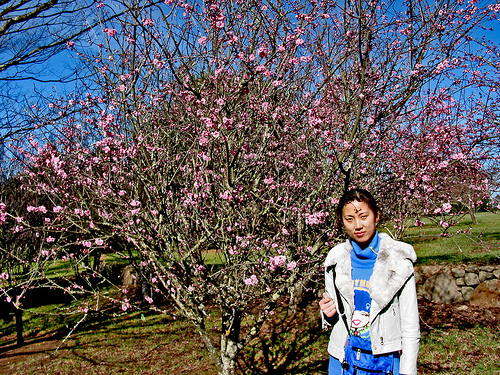 Amidst snowy drifts of flowering cherries throughout September, colour will consistently build to a crescendo in October and early November, when rhododendrons and azaleas combine to paint a flamboyant splash of gaudy colour across the Gardens in loud mauves, pinks, oranges and reds (Ref 5).
Having seen a postcard-perfect photo of the Kurume Bowl bursting into brilliant colours, I am enticed to visit the National Rhododendron Gardens when its Kurume Bowl is in full bloom, expected to be within the next two weeks.

4. Spring Fest – Dandenongs' Garden Festival
Organized by the Villages of Mount Dandenong, the Spring Fest which runs from mid September to the end of October, showcases the best of the region's garden and floral experiences. Of special interest is the Secret Gardens of the Dandenongs activity which comprises 11 separate tours to 17 private gardens. Priced at $99 per person, many of the tours are sold out. I will not have any photo and additional information to share as I will not be able to afford this cost for a family.

5. The Macedon Ranges
This is one place that I suspect is worth visiting during Spring as I had found its autumn colours to be quite spectacular during my last visit. Try the various gardens there such as Tieve Tara, Forest Glade and those participating in the Open Gardens scheme. (A secret to share – the Macedon Ranges is another place apart from the Dandenongs that have many secret gardens).
There are various Spring events in this region:

6. Grampians
The visitvictoria.com website lists places where you can see seasonal wildflowers and particularly highlights the Grampians and the Great Ocean Road as the gems of the lot.
Known as the "Garden of Victoria", the Grampians are home to more than a third of Victoria's flora. Late winter displays of massed acacia along Roses Gap Road are replaced by miles of Grampians Thryptomene in spring, when tiny white blossoms turn to delicate pinks and light browns. You can find upland heaths in purples, pinks and whites, ground-hugging grevilleas and in shaded areas, beautiful native orchids and delicate necklaces of Maidenhair ferns.
The southern plains of the region hosts numerous wildflowers and native grass species, purple, pink and orange peas, flowering shrubs, bluebells, pincushions, green and red correas. To the north, grasslands support eremophila and the open woodlands have their own displays of orchids, flowering shrubs and trees. In most of the parks and reserves, Greenhood, Golden Moth, Tiger and Sun orchids can be seen in the understorey.
There is an annual Grampians Wildflower Show that is now in its 75th year and will be held at Centenary Hall in Hall Gaps from 4-7 Oct 2012.

7. Great Ocean Road
Visitvictoria.com suggests visiting Great Ocean Road during Spring to see a large diversity of flora, including wildflowers. Recommended destinations include:
Mount Richmond National Park – an extinct volcano near Cape Bridgewater known for its spectacular spring wildflowers and abundant wildlife in unspoilt bushland. Some of Victoria's best wildflowers are found there. About 450 species of plants have been recorded in the park, including 50 orchid species. Correas, heaths, wattles and Bush Peas provide spectacular colours in spring but there are plants flowering almost all year round.
Glenelg River enroute to Princess Margaret Rose Cave.
Native flora and fauna at Tower Hill State Game Reserve.
Rainforests, eucalypts, mountain ash trees, myrtle beech and understorey tree-ferns in the Otways, Malts Rest and Melba Gully.

8. Royal Botanic Gardens
The RBG in the City is always a nice place to visit, at whatever times of the year. There is a Spring Open Day on 7 Oct 2012. You can download the program here.
After over 20 years of planning, construction and planting, the Australian Garden at RBG Cranbourne finally completes the vision for a bold, contemporary garden of Australian native plants. The second and final stage will open to the public with a two-day celebration from 20-21 Oct 2012. The second stage includes 11 new precincts, 70,000 plants, 850 plant species, a visitor kiosk and café, and a dedicated space for community events. Sat 20 Oct is "Gardeners Day" while Sun 21 Oct is "Family Day" with guided walks, children's activities, gardening workshops and entertainment.

9. Altona
I live in Altona so I know this suburb presents a natural visual delight in October every year. During this time of the year, the Altona Coastal Park is carpeted with pink swathes of Carpobrotus rossii or pigface flowers. Click here for more information and photos.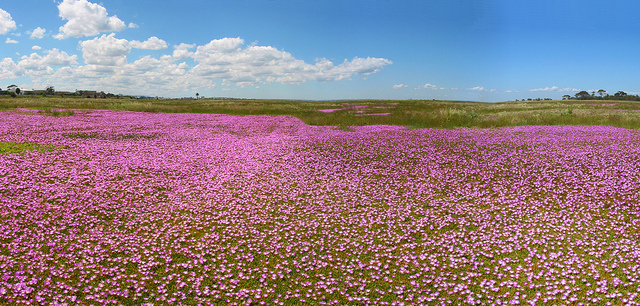 I can actually experience the splendours of spring right outside my doorsteps. There are several avid gardeners in "Julia Street" where I live. In fact, my neighbour has made it an annual ritual to grow ranunculus whose collective array of colours is a sight to behold.
Every morning on my walk to the train station, I would pass by the front garden of a house. Wafts of sweet-smelling scents from clusters of unnamed small white flowers would make me pause my steps. I would feel invigorated and wonder what these flowers are. Their scents are so enticing and what is interesting is that these scents are emitted only during certain times of the day.

10. Melbourne Festival
Formerly known as the Melbourne International Arts Festival, the Melbourne Festival is a celebration of dance, theatre, music, visual arts, multimedia, outdoor and free events held for 17 days each October in a number of venues across Melbourne.
It was first established as the Spoleto Festival Melbourne in 1986 by the Cain Government as a sister festival of the Festival dei Due Mondi in Spoleto and the Spoleto Festival USA held in Charleston, South Carolina. Its name was changed to the Melbourne International Festival of the Arts in 1990 and then to Melbourne International Arts Festival in 2003. It is now simply referred to as the Melbourne Festival.
Melbourne Festival is one of Australia's flagship international arts festivals and one of the major multi-arts festivals of the world, in terms of quality of work, innovation of vision, and scale and breadth of program.

11. Melbourne Fringe Festival
The Melbourne Fringe Festival is an annual independent arts festival which runs for 3 weeks from late September to early October, usually overlapping with the beginning of the Melbourne Festival. It includes a wide variety of art forms, including theatre, comedy, music, performance art, film, cabaret, digital art, live art and circus performance.

12. Royal Melbourne Show
The Royal Melbourne Show, which just ended, is an agricultural show held at the Royal Melbourne Showgrounds at Ascot Vale every September. It is organized by the Royal Agricultural Society of Victoria and has been running since 1848. It attracts attendances of up to half a million people each year.
Besides the display of agricultural livestock and produce with its associated competitions and awards, the show also features amusement rides, a sideshow alley, food sampling and showbags. You can get discounted admission tickets if you are a RACV member.

13. Melbourne Cup Carnival
The Melbourne Cup Carnival is comprised of 4 unique race days, the Derby, Melbourne Cup, Oaks and Stakes Day, of which the Melbourne Cup Day is the most significant. Held since 1861, the Melbourne Cup race starts at 3 pm on the first Tuesday of November at Flemington Racecourse. Billed as the race that stops a nation, it is watched by up to 700 million TV viewers in Australia and New Zealand and is a public holiday in metropolitan Melbourne since 1877, in some parts of regional Victoria and in the Australian Capital Territory since April 2007.
During the carnival, hordes of people swarm to Flemington by train, tram, car, etc. On these race days, special trains fetch racegoers to the Racecourse station which only opens for this event. Coming from Singapore, I have not seen a peculiar phenomenon like this. I still find it interesting and amused by the sight of gentlemen in very formal suits and ladies donning elaborate fascinators, wearing heavy makeups and dressed to the nines, on board trains heading towards the racecourse. Somehow, these people appear to me like figures lifted out from the pages of a commemorative coffee book – men and women from the Victorian gold-rush era, attending what must be the most important annual event in town.  I learnt that these ladies spent a fortune preparing for this big day. Apart from the racing contest proper, fashion competition is also a key conversation topic of the carnival. Indeed, the lawns of Flemington are graced by some of the world's most fashionable and prominent people, which this year would include Prince Charles and his wife Camilla (Ref 6). I was also told by a colleague that people go to the carnival with the purpose of drinking, socializing, dating and treating the racecourse as a big party ground.

14. AFL (Australian Football League) Grand Final
The AFL Grand Final is an annual Australian rules football match, traditionally held on the final Saturday in September or October at the Melbourne Cricket Ground in Melbourne to determine the AFL premiership champions for that year. The game has become significant to Australian culture and the AFL Grand Final has become Australia's most important sporting event, with the largest attendance and metropolitan television audience.

15. Melbourne Marathon Festival
The Melbourne Marathon Festival has been held every year since 1978. It is composed of the marathon, half-marathon, 10 km, 5.7 km, 4 km walk, and Kids 2.5 km races. It will be held on the 14th of October this year.