We decided to see the St Kilda Festival yesterday. I found from Metlink's website that Werribee trains were not running since Friday so we drove to Newport to take the Williamstown train. I asked the Metro staff at Newport station the best way to get to the St Kilda Festival. I was told to change to a Sandringham train at Flinders Street, alight at Balaclava station and then take a tram from there. I asked what about Tram Route 96 (which runs from Bourke St to St Kilda). She told me all trams, including 96, will terminate at Fitzroy so my best option is still getting to Balaclava.
Both my wife and I had experienced being given wrong information by Metro staff numerous times before. What she said sounds really dubious to me as I could recall from viewing the 2012 St Kilda Festival's website that it is possible to take a number of trams to get to the Festival. Not trusting what she said, I decided to approach the BIGGER information booth at Flinders Street station upon arriving there. I guess the information given out by this dedicated booth will have to be more reliable. This time I was told to take either Tram 16 or 3A outside Flinders St station along St Kilda Road.
Tram 16 was jammed with people, moving at snail pace and constantly rocking forth and back. I was feeling dizzy and both my children fell asleep in the pram due to the tram's erratic motion. We had to support our daughter's head with our palms as her toddler seat, attached above the pram, has no headrest.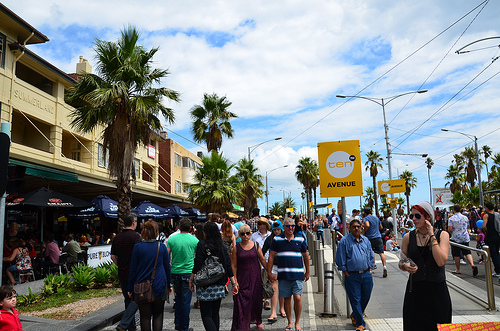 After what must be a pretty long journey, we finally arrived at St Kilda. There appears to be many more people than in 2008 when we first visited the Festival. The St Kilda Festival which started in 1980, is now in its 32nd year.
The trams stopped way before the terminal stop and the roads were transformed into pedestrian thoroughfares. Street performers took centre stage on the strip in the middle of the road where the trams run. Steering clear of large crowds, I stopped by to watch a beatboxing performance.
By this time, my daughter had woken up and we encouraged her to socialize with the Living Statue, a favourite among kids.
A drizzle started, which gained strength and eventually became a downpour. I thought that we should have stayed at home as we were pretty tired after four modes of transport (drive, train, tram and walk). This unwanted rain had extinguished any residual enthusiasm that I might have in lingering around.  So we made our way back to the tram. This time round, we decided to walk a bit further to catch the Route 96 tram, which was much less crowded and faster, as a section of its track uses the old train track and does not compete with motor vehicles.