We and a group of friends take turn to host a gathering each Sunday. The last two gatherings were at the friends' homes in Deer Park and Hoppers Crossing. The last Sunday on 21 November was our turn. I realized that the Altona Summer Safety Family Day would also be held on this day. What a good coincidence! I will take advantage of this occasion and allow the Hobsons Bay City Council to provide the activities and entertainment. I only need to supply the food. We went to Logan Reserve early and fortunately, we were able to get a table and sit in comfort to enjoy the picnics food.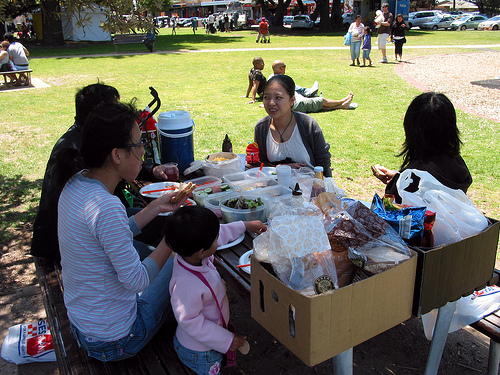 Staff from the Victoria State Emergency Services (SES) came to our table to distribute bags of goodies and asked us to visit their booth where they are providing a service of tightening car number plates.
Soon my friends started drifting away from the table to various locations in Logan Reserve. One moment, they were getting balloons for their kids. Another moment, they were taking photos of the kids in the miniature police cars. Yet another moment, a photo shoot with the roving "teddy bear" and "bunny". I thought I have taken photos of the bunny but apparently, I did not. My friend from Deer Park had brought along a little girl, his next-door neighhbour. This girl too enjoyed the outing – she had her face painted like a cat!
There are some activities for the adults too. My wife and her friends were preoccupied with assembling wooden money boxes at the Bunnings booth. Meanwhile, I was coaxing my daughter to move forwards inside the jumping castle. I think everyone is having a good time. When it was time to adjourn to my house for a cake and beer, my friends from Hoppers Crossing did not follow my car but stayed back a little longer at Logan Reserve to listen to the band.
When I had the time to go through the SES goodies bag, I found a colouring book for kids and some pamphlets teaching people how to plan and prepare for floods and storms. The pamphlet says "Don't let recent droughts fool you, Victoria is still prone to major flooding. Australia has a variable climate dominated by droughts and flooding rains….If you live or work close to a creek, river, major stormwater drain, you may be at risk from floods even if you have never experienced flooding before, as every flood is different…"
Altona has 3 creeks, a sea and a large lake. No wonder it needs to be prepared for floods this summer!