Following up on the Filming in Hobsons Bay
post
, I am collating in this post the movies, TV programs and commercials that were filmed in Altona.
My Year Without Sex (2009)
Trailer
Photo of the film family's weatherboard house in Altona
This Australian film, written and directed by Sarah Watt, opened in the 2009 Adelaide Film Festival and was officially released on 28 May 2009. Set in Altona, it is about a 30+ couple Natalie and Ross (played by Sacha Horler and Matt Day) with their pre-teen kids Ruby and Louis. After Natalie suffers a brain injury, she is advised to abstain from sex for 12 months.
Watt said she wanted to make a film without a sex scene, after her 2005 film Look Both Ways which won her recognition. "I didn't want to be coy and just avoid it, but once we started playing with that title, the whole thing became about sex. My ideas were so broad, about anxiety and non-sustainable consumerism and how a non-ruling-class family were coping with how to save for the future and the uncertainty in the work force."
This film received strongly favourable reviews, touted by The Sydney Morning Herald as possibly the best 2009 Australian film and by The Age as the most accomplished 2009 local film.
As with Look Both Ways, My Year Without Sex deals with the impact that serious illness has on individuals and relationships. The two films are reportedly part of a "proposed trilogy". Unfortunately, we will not see this happening as Watt had passed away on 4 Nov 2011, after a long battle with cancer (Ref 1).
Bogan Pride (2008)
Article 1, 2, 3, 4
This 6-part musical comedy TV series, first screened on SBS in 2008, is written and starred by Rebel Wilson, one of Australia's most talented and popular comedy actors. The series is based on her experiences growing up in Sydney's western suburbs. The comedy was filmed predominantly in Altona and Laverton, with the school scenes being filmed at Sunshine Secondary College.
Set in the fictional suburb of Boonelg, the show revolves around an obese girl Jennie Cragg (played by Wilson) living with her extremely overweight mother Berenice, who is confined to her living-room chair. What does a bogan girl do? She will enter a local dance competition hoping to win $10,000 for her mum's stomach stapling operation. She hopes to impress her good-looking neighbour Nick whom she has a crush on and get revenge on the school skanks. She will also deal with the antics of her Aunt Cassandra, who has become increasingly annoying since her gay husband left her, learn to become closer to God with the help of a few lesbians, sell bonsai cats and try to win a Maths Olympiad.
The closing scene of the show sees the cast dancing along streets in Altona, which attracted a lot of attention from locals (Ref 2). Click here to view the Dance Battle Video. Note Harrington Square in the upper left photo below.

Miss Fisher's Murder Mysteries (2012)
Article 1, 2, 3
Produced by Fiona Eagger and Deborh Cox, the 13 one-hour episodes of this detective drama series will screen on ABC1 in 2012. Miss Phryne Fisher is a 28 years old "female James Bond" in the bestselling series of Australian author Kerry Greenwood, whose 18 novels have sold more than 250,000 copies worldwide and have a very loyal following. Fisher is played by Essie Davis and this series also stars Nathan Page (Underbelly, All Saints), Miriam Margoyles (Babe, Harry Potter) and Hugo Johnstone-Burt (Cloudstreet).
Phryne was born into a poor family in Richmond. After finishing school, she ran away to France to joine a French women's ambulance unit during WWI, receiving a reward for bravery and a French war pension. The deaths of several young men in the same war enabled her father to inherit an English title as well as its associated wealth. This made her an Honourable with an enormous fortune, when her father died. She then worked as an artist's model in Montparnasse after the war. After several years, Phryne moved from England to Melbourne temporarily in 1928 to investigate a possible poisoning for a family friend. She enjoyed the lifestyle so much she stayed on in St Kilda permanently.
Through the course of the books, Phryne adopts a personal maid Dot, two daughters Ruth and Jane whom she rescued from slavery, a cat Ember, a dog Molly and two loyal servants, the Butlers. With Dot and her assistants Bert and Cec, Phryne solves all manner of crimes. Phryne is no ordinary aristocrat, as she can fly a plane, drives a Hispano-Suiza sportscar, wears stylish Art Deco clothing and sashays through the backlanes and jazz clubs of late 1920s Melbourne, fighting injustice with her pearl-handled pistol and her dagger-sharp wit. But behind the façade of elegance and charm are the scars of the past which drive Phryne to find justice for those who can't help themselves and to pursue the truth of her own dark history.
She also has relationships with a string of lovers, most notably Lin Chung, a wealthy Chinese man whom she rescues in the city one evening. Lin is the only lover with whom she maintains a relationship for more than a few books and even goes so far as to make a deal with his grandmother that when he is married, she be allowed to continue a relationship with him. Li Pen, the bodyguard of Lin Chung, is the only Shaolin monk in Australia with a taste for vegemite.
The TV series had started filming on 10 July 2011 and the 6th novel "Blood and Circuses" was filmed in Doug Grant Reserve, Altona in Oct 2011. In this novel, unusual things are happening at the Farrell's Circus and Phryne was asked by her friends to investigate. She throws off all her wealth and social status to go undercover as a trick horse-rider, wearing hand-me-down clothes and a new name. Someone seems determined to see the circus fail and Phryne must find out who that might be and why they want it badly enough to resort to poison, assault and murder. Diving into the dangerous underworld of 1920s Melbourne, Phryne proves her courage and ingenuity yet again, aided only by her quick intelligence, an oddly attractive clown and a stout, helpful bear. Click here to view a photo of the Circus Scene.

Metal Skin (1994)
Trailer / Review
This is a 1994 Australian film written and directed by Geoffrey Wright, starring Aden Young, Tara Morice, Nadine Garner and Ben Mendelsohn. It premiered at the Toronto Film Festival on 14 Sep 1994 and was officially released on 4 May 1995 through Village Roadshow.
The film follows the lives of 4 adolescents in and around Altona. Joe, a bogan from Altona, secures employment at a local supermarket where he meets and befriends Dazey, both sharing a common interest in old hot cars. Joe also forms a relationship with a Satanic colleague. The nihilism of these adolescents, coupled with parental disputes, leads to various tragedies (Ref 3).
Eugénie Sandler P.I. (2000)
Review
This is a 13-part Australian children's adventure series that first aired on ABC1 in 2000. Created and written by David McRobbie, the series was shot over 13 weeks in Altona, Footscray and Oakleigh, using disused railway carriages, abandoned warehouses, oppressive concrete walkways and back alleys.
Raised as the daughter of private investigator Ray Sandler, 15-year old Eugenie (played by Xaris Miller) has grown up in Australia without knowing the truth about her past. She has lived a nomadic lifestyle as a result of his father's occupation, joking that she collects postcodes the way other girls collect CDs.
Her mysterious history is rooted in the fictional and mist-shrouded Eastern European country of Versovia whose people soon make their presence felt. Among those pursuing her are furtive-looking detective Matt Gurney, the former governess to the royal family of Versovia, Angela Duvier and cops Davorin and Slavomir. The latter pair are strangers in a strange land and their efforts to accomplish their mission in the alien terrain of urban Australia promises some comic relief.
All Eugenie knows is that she is suddenly and inexplicably in danger. After escaping an explosive device planted in her home, she is forced to flee and sets off to piece together the mystery of her family history and to find her father, with the aid of her intrigued classmate, Warwick.
Winners & Losers (2011)
Trailer
This TV drama series was first broadcasted on the 7 Network on 22 Mar 2011. It revolves around the lives of 4 women: Jenny Gross (Melissa Bergland), beauty therapist Bec Gilbert (Zoe Tuckwell-Smith), Frances James (Virginia Gay) and Sophie Wong (Melanie Vallejo). The lives of these 4 best friends were bound together by their shared experience of being "the losers" in high school. Ten years later at the school reunion, they realize they are really winners and afterwards, win a large amount of money in the Oz Lotto.
Bec's Beauty Salon is filmed at 19 Harrington Square, Altona – now a vacant shop but was also formerly a beauty salon. I happened to see the filming taking place there on 19 Oct 2011 when I passed by. You are still able to see the shop board "Bec's Beauty Salon" being displayed.
It appears that this series had used Hobsons Bay as filming locations over a rather long period from Sep 2010 to Oct 2011. However, I do not know where are the other filming locations.
Blessed (2009)
Trailer / Article
This 2009 drama film, directed by Ana Kokkinos, was released in Australia on 10 Sep 2009. It is based on an award-winning stage play Who's Afraid of the Working Class? Kokkinos engaged the play's original writers, Andrew Bovell, Melissa Reeves, Patricia Cornelius and Christos Tsiolkas, to adapt it for the big screen.
The story is told in 2 parts: first tracking 7 lost youths over the course of a day and a night as they roam the suburbs and backstreets of Melbourne; then revisiting the same 24 hours from the mothers' perspective.
Four celebrated Australian actors lead a large ensemble cast in a film where multiple narratives intersect tenuously but to powerful effect. Miranda Otto plays a lonely single mother frightened by her responsibilities and addicted to the pokies. Deborra-lee Furness plays a hard-working mother with an unemployed, emotionally dehydrated husband. Victoria Haralabidou plays a Greek widow who sews private school uniforms to make ends meet. Frances O'Connor plays a welfare-dependent mum whose neglected kids have taken to the streets.
A scene was filmed at Altona Pier.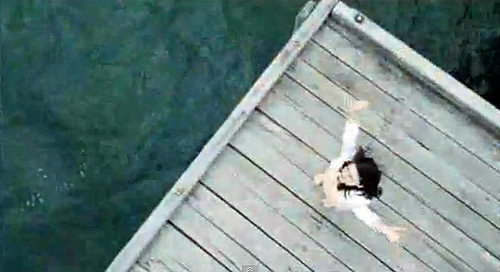 Animal Kingdom (2010)
Trailer
This is a 2010 Australian crime film written and directed by David Michôd, and starring Ben Mendelsohn, Joel Edgerton, Guy Pearce, Luke Ford, Sullivan Stapleton, Jacki Weaver and James Frecheville. The film is loosely inspired by the Pettingill family and the Walsh Street police shootings that occurred in Melbourne in 1988.
The film received 18 nominations for the 2010 Australian Film Institute Awards, of which it won a record 10 awards. Jacki Weaver was nominated for the Best Supporting Actress for the 68th Golden Globe Awards and the 83rd Academy Awards. It was named one of the Top Independent Films of 2010 at the National Board of Review Awards.
The movie was filmed in many Melbourne locations, including Altona, as Michôd was passionate about wanting to encompass the whole city, from its quiet, leafy suburbs and cityscapes, to its stark, industrial side (Ref 4).
This Australian sketch show, created by Ian McFadyen and produced by Network Ten, debuted on 30 May 2006 and ran for 2 seasons, ending on 29 Dec 2007.
The Elephant Princess (2008)
Trailer / Article
This Australian children's TV series, created by Jonathan M. Shiff Productions, debuted on Network Ten on 13 Nov 2008. A second season began screening in 2011.
The protagonist Alex Wilson (played by Emily Robins) thinks she is an average suburban girl living in Melbourne, until her 16th birthday. An exotic visitor Kuru shows up in her backyard with a magical elephant Anala and informs her she is in fact the heir to the throne of a magical kingdom, Manjipoor. With his help, the reluctant princess must master her magic powers and defend her royal inheritance against her devious cousin, Vashan whilst balancing the pull of both worlds to find her true destiny. In the second season, Alex and her family have moved to the Gold Coast. Her friend Amanda has followed her there, where they plan to find a new drummer for their band.
Filming of the 26-episode Season 1 took place in Altona North from December 2007 to April 2008. The Yarraville-based Jonathan M. Shiff Productions brought the 50-year old Indian Elephant Siam down from her home state of Queensland twice to Altona North for filming. Click here to view the photo of Siam with its handler, Brenton Bullen.
Lover Boy (1989)
This 1989 film, directed by Geoffrey Wright and starring Noah Taylor and Gillian Jones, was released on 17 Aug 1989. It was filmed in Altona North.
Advertisements
At least two advertisements were shot in Altona (I believe there are many more):