I am always fascinated by geographical features and maps. Whenever I am at Altona Beach gazing at Port Phillip Bay, I always wonder what secrets does Port Phillip Bay hold, what are beneath its surface and what are beyond its horizons. I originally planned to write an article on the "Treasures of Port Phillip Bay" but soon realized that there is too much material to be covered by a single post. Instead, I will breakdown the content into two or more posts, starting with this post about the islands in Port Phillip Bay.
Despite its shallow depth and large size, Port Phillip Bay has surprisingly few islands. Most islands are located in Swan Bay at the eastern end of the Bellarine Peninsula. These include Swan Island, Sand Island, Duck Island, Rabbit Island, Stingaree Island, Tip Island and Mangrove Island.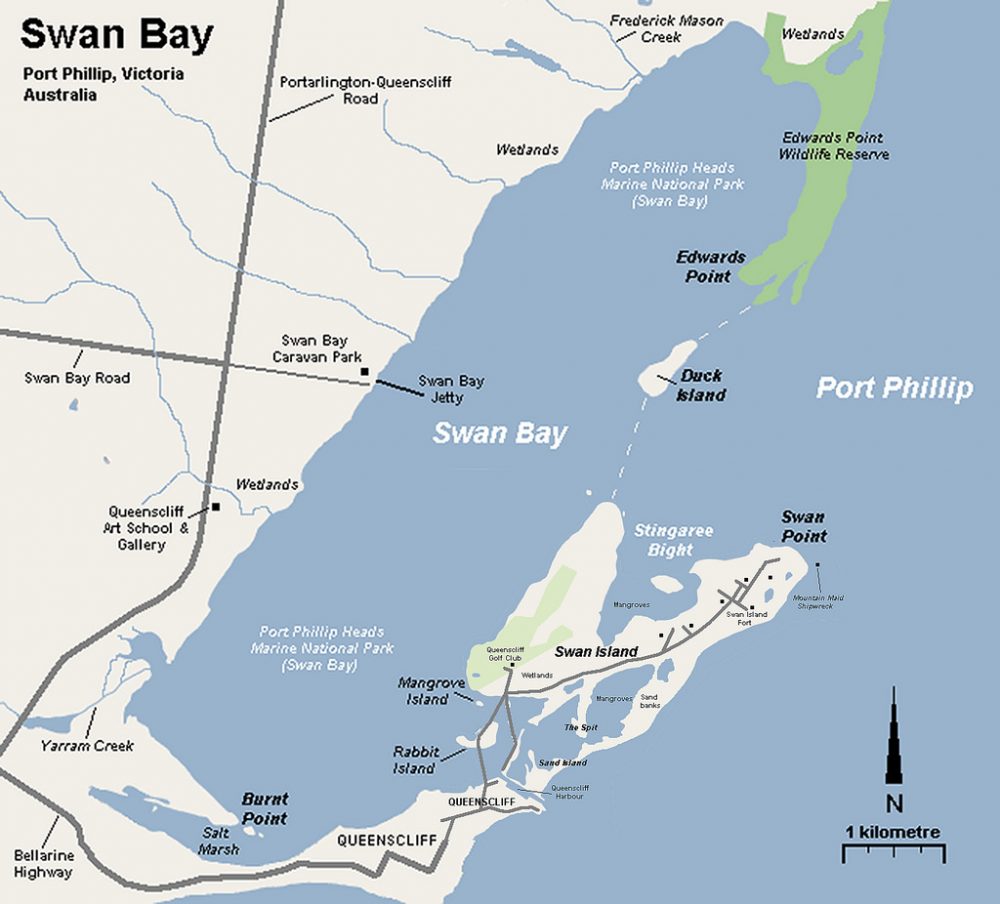 Map by Nick Carson
Swan Island
Swan Island is a 1.4 km2 sand barrier island, accessible from Queenscliff by a causeway through the small saltmarsh-covered Rabbit Island. Its western end is home to the Queenscliff Golf Club while a Defence Department's training facility is located in the central and eastern parts. Swan Island has a long history of military use, being part of the fortifications built to protect the entrance to Port Phillip Bay from a feared Russian invasion during the Crimean war in the 1870s. It was used as a depot for naval mines during World War I and was linked to Queenscliff Railway Station by a tramway for transporting military goods from 1886 to 1958.
The extensive areas of saltmarsh on Swan Island serve as one of the few regular wintering sites for the critically endangered Orange-bellied Parrot.
Sand Island
Sand Island was formed by cutting a channel between Port Phillip and Swan Bay when making the entrance to Queenscliff Harbour. The continuous pumping of sand from this channel to keep it navigable has resulted in sand drift in a north-easterly direction, eventually joining Sand Island to Swan Island and creating two lagoons, which are much used by Black Swans and other waterbirds. Sand Island is home to the Queenscliff Cruising Yacht Club.
Mud Islands
Located 7 km north of Portsea and 9 km east of Queenscliff is a unique group of 3 low-lying, atoll-like islands (4 m high, 86 ha in total area, 60 ha in land area) called the Mud Islands which enclose a shallow tidal lagoon connected to the sea by 3 narrow channels. Despite the name, these islands, including their outer beaches, are composed primarily of shelly sand.
Mud Islands are the surface expression of the "Great Sand" – extensive sand banks in the southern section of Port Phillip Bay near the Heads. Birds play a key role in the physical evolution of the islands. Phosphates leached from guano deposits (bird droppings) combine with the shelly sand below to form hard calcium phosphate, which is resistant to marine erosion. It is these rare phosphate rock outcrops that anchor the islands and keep them in place. The guano itself was mined in the 1860s and 70s, amidst much controversy at the time as to the possible effects on the islands.
Movement of sand by winds and tidal currents is gradually changing the size and configuration of the islands over the years, with stability provided mainly by the phosphate rock anchor points and partly by a saltmarsh of Austral Sea-blite and Beaded and Shrubby Glasswort. The inlets have been particularly dynamic, having opened, closed or shifted many times.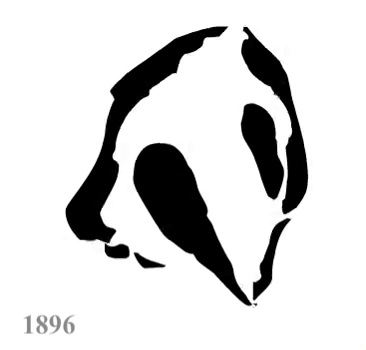 Courtesy of Doug Miller & Friends of Mud Islands
The islands were first sighted by Europeans in 1802 and originally named Swan Isles due to the large number of swans in the surrounding waters. They were renamed to Mud Islands by Lieutenant T.M. Symonds and H.R. Henry of the HMS Rattlesnake in 1836.
Mud Islands have long been of scientific and conservation interest. They were proclaimed a permanent reserve for the management of wildlife in 1961. They are listed on the Register of the National Estate. Mud Islands and Swan Bay were included in the Port Phillip Bay (Western Shoreline) and Bellarine Peninsula Ramsar Site, designated in 1982 as a wetland of international importance. Mud Islands, together with Swan Bay, Point Lonsdale, Point Nepean, Pope's Eye and Portsea Hole, were gazetted as the Port Phillip Heads Marine National Park in 2002.
Mud Islands are a bird haven, with 87 recorded species, of which 15 have been recorded nesting. The entire area above high water mark is used for nesting, with some species forming extensive colonies. Silver Gulls were recorded nesting in 1838 but they later abandoned the islands as a breeding site, probably due to human occupation of the islands by fishing families and guano miners in the second half of the 19th century. They returned to breed in 1959 and their population subsequently exploded when they were evicted from their traditional breeding site at Port Melbourne due to industrial development. Mud Islands now support the largest breeding colony of Silver Gulls in the world, with an estimated 40-50 thousand pairs breeding by 1986.
From 1990 onwards, Straw-necked and Australian White Ibis nested on Mud Islands in large numbers. These birds use the brittle Coast Saltbrush to build their nests, creating bare areas that are rapidly colonized by the competing Coast Hollyhock, which is superbly adapted to life in bird colonies.. It thrives on guano and is one of 18 known plant species that are largely or entirely restricted to bird colonies. Unlike Coast Saltbrush, its tough fibrous stems and branches make it indestructible by even the largest nesting birds and it can tolerate birds tunnelling in its root system. Thanks to the ibis, the hollyhock population has risen to over 5000 plants, making it the largest known population of this rare species in the world.
Other birds nesting on Mud Islands include 5500 White-faced Storm-Petrel, nearly a 1000 Crested Terns (one of the largest colonies in Victoria and the only one in Port Phillip Bay), Caspian Terns and Common Terns. The central lagoon is visited by thousands of intercontinental waders in summer.
Artificial Islands and Structures
Due to its shallow depth, a few artificial islands and forts had been built in the Bay. These include South Channel Fort, Pope's Eye, Chinaman's Hat and South Channel Pile Light.
South Channel Fort
South Channel Fort is a 0.7 hectare artificial island in the southern part of the bay, 6 km northeast of Sorrento. It is 122 m long, 76 m wide and 6.4 m above sea-level. It was built on a shoal, close to the main shipping channel of the bay, with 14,000 tonnes of bluestone boulders, concrete and sand.
It was constructed in the 1880s to illuminate the channel at night and electronically explode mines under attacking ships coming through the Heads. A system of underground tunnels and antiquated gun emplacements, including disappearing guns, still remains. The first Australian shots of both World War I and II were fired from the South Channel Fort.
South Channel Fort is listed on the Register of the National Estate both for its historic significance and its conservation importance as a breeding site for the White-faced Storm-petrel. Other species visiting the island include Little Penguins, Black-faced Cormorants and Australian Fur Seals. Since 1995 it has been managed as part of the Mornington Peninsula National Park. Public access is permitted during daylight hours and it is a popular diving site.
Pope's Eye
Pope's Eye or the Annulus is the uncompleted foundation for an island fort intended to defend the entrance to Port Phillip Bay. It is named after a naval midshipman and located 3 km east of Queenscliff and 5 km north of Portsea.
Construction began in the 1880s by dumping bluestone boulders on a 12 metres deep submerged sandbank until a horse-shoe shaped artificial reef was formed just above high-water level. The fort was left uncompleted because improvements in naval gunnery enabled the entrance to Port Phillip and the associated shipping channel to be protected by guns at the nearby Swan Island Fort, Fort Queenscliff and Fort Nepean, making Pope's Eye redundant for military purposes. The reef now now hosts a navigation beacon.
The inside of Pope's Eye provides a safe anchorage to small boats in 2-3 metres of water while the kelp-covered rocks slope away to a depth of 12 metres on the outside. Protected from strong currents , it is popular with snorkellers and scuba-divers, providing almost all weather, all current diving.
The site has been protected as part of the Harold Holt Marine Reserve since 1979, which was expanded in 2002 and called the Port Phillip Heads Marine National Park. The reef provides a habitat to an underwater forest of marine algae, such as Giant and Leathery Kelp, which in turn sustains a rich fauna of fish and marine invertebrates, including sponges and soft corals.
Pope's Eye is an important breeding site for Australasian Gannets, which breed on platforms constructed for them as well as on the rocks of the reef, which are also used for roosting by Black-faced Cormorants and for foraging by Ruddy Turnstones. The site is often visited by Australian Fur Seals and Bottlenose Dolphins.
Chinaman's Hat
Chinaman's Hat or the Caisson is an octagonal structure on a rectangular base in the South Channel 3 km from Pope's Eye. It was built in 1942 during World War II to defend the bay. It detected intruding enemy ships trying to enter Port Phillip Heads at night and take Melbourne by surprise, when these passing ships intercepted a photoelectric beam projected from the structure.
The military equipment has since been demolished and today, Chinaman's Hat is just an outcrop and home to a group of Australian Fur Seals which lounged on its rocky surface in the warmer months. It is also a popular destination among scuba divers.
South Channel Pile Light
The South Channel Pile Light is a single-storey octagonal lighthouse, about 9 metres across and standing on timber piles in the water. It was built between 1872 and 1874, originally served to guide ships through the narrow South Channel and was occupied by lighthouse keepers until bottled acetylene gas was introduced in 1925.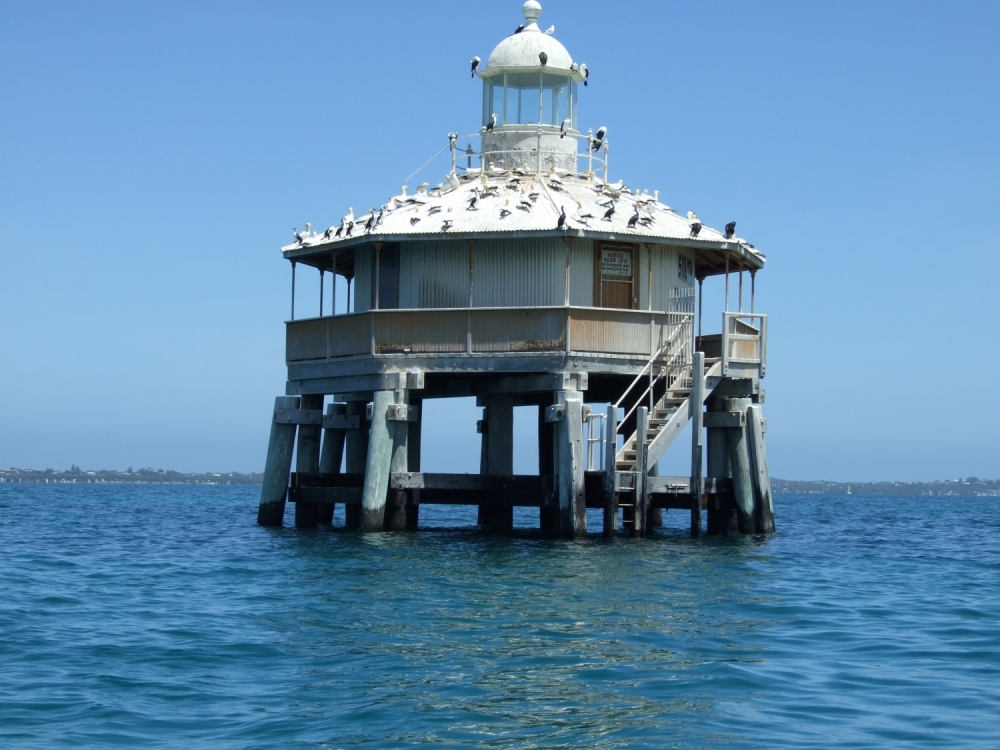 Photo by Paulp67
The lighthouse had a living room with a fireplace and chimney, a bedroom with 4 bunks and an inspector's office, which was also used as a store room. Two water tanks stored rainwater collected from the roof and a central spiral staircase led to the lantern, which housed the light. Between 1905 and 1913, the lighthouse keeper painted murals of sailing ships on the interior walls of the house. These were removed in 1979 and are now on display in the Polly Woodside Melbourne Maritime Museum.
The light was finally switched off in 1985, having operated as a navigational beacon for 111 years. An era of neglect and vandalism ensued, until the structure was restored by Parks Victoria in 1998, in accordance with Heritage Victoria guidelines and relocated 3 km off the coast of Rye Beach.
Public access to the Pile Light is by boat and is limited to viewing the outside structure.
Residential Island
All the artificial islands in Port Phillip Bay were built for either defence or navigational purposes. However, lands could be reclaimed from the sea for other purposes such as for residential development.
In 2004, Eco Island Task Force, a consortium led by Sorrento resident Kerry Murphy, proposed using 30 million cubic metres of silt produced from the dredging of Port Phillip Bay and Yarra River to build an island or a series of islands in Port Phillip Bay purely for residential development. This is putting the silt to positive use rather than dumping it back to some other sites in the bay.
Under this vision, the island will be one-third the size of Melbourne's CBD, with a range of homes catering to different budgets, ranging from entry-level to those with multi-million-dollar price tags. It will be car-free, environmentally friendly and self-sustainable with its own power, water and sewerage. A wildlife sanctuary was a possibility on a neighbouring island.
Different locations for the island were suggested. Coastal engineer Gerry Byrne advocated building the island closer to the shore as it will be cheaper to build in shallower water. He felt that the best site was off Point Ormond at the end of the St Kilda Marina. Another possible site was off Altona Beach. Under this suggestion, a cluster of small islands closer to the city could be built with bridges to the mainland.
Kerry Murphy suggested locating the island on an existing "spoil" site, created from previous dredgings, in the middle of the bay between Beaumaris, Port Melbourne and Werribee. The bay was often exposed to sudden southerly wind changes that resulted in three-metres waves and creating an island in the centre of the bay would provide a safe harbour for boats in the bay.
Apart from residential purpose, these islands could become a tourist attraction with worldwide appeal, as seen from man-made Palm Islands and World Islands off the coast of Dubai.
Apparently, this concept has yet to become a reality but it remains an interesting and tantalizing idea for land-scarce Melbourne. Click here to read the original article from The Age.