The Kooringal Golf Club is a 18-holes, 6.1 km long, Par 71 course.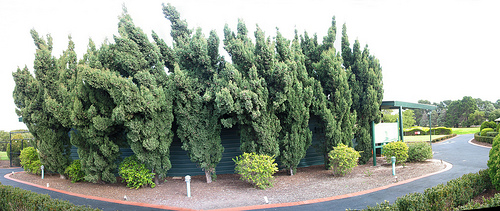 Inaugurated in 1946 as the Williamstown Golf Club, its name was changed in 1958 to Kooringal, an aboriginal word meaning "by the water", when Altona became a separate municipality.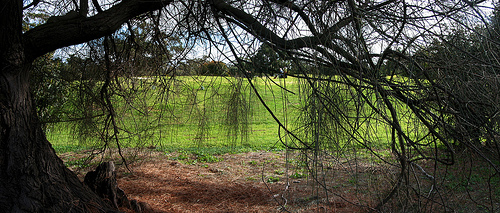 The site is the last remnant of a formerly extensive series of sand ridges that run parallel to the coast between the mouth of Kororoit Creek and Skeleton Creek. The ridges consist of well-stratified shell beds that were formed as sea floor ridges during the mid-Holocene era, when the sea level was 1-3 metres higher than at present. The present alignment of the golf course and its use as an open-space facility preserves the general form of the ridges. The ridges are important for analyzing sea level changes over the last few thousand years.
It takes quite a while to drive from one end of the Golf course to the other end along Queen St, the road linking Altona to Altona Meadows. I never cease to feel visually enthralled by the green expanse of the rolling slopes in the Golf course that seem to go on miles after miles. The view takes on another dimension when the car driving towards Altona rounds a corner, bringing into view the green grassfields of the Doug Grant Reserve/Apex Park on the right, with the blue sea in the background.
The Clubhouse has a restaurant with views of the Golf course and facilities for functions and weddings.
Below is a Google Street View of the Golf Course.
This Street View may take a longer time to load. Click the "Restore" button if it fails to load.