The most recent activity of the Seaholme Sustainability Street was an outdoor Christmas Party held at the Norah McIntyre Reserve on Noordenne Avenue on Saturday 11 Dec 2010. George had invited our family to attend this party. I was surprised to see the large number of parents and grandparents with small children. So who says that Altona/Seaholme is an aging suburb?
This was a fun-filled day with food, entertainment, presents and more importantly, a social function for neighbours and friends to catch up with each other and to cultivate their neighbourly relationships. I realized how small the world is when I found out someone also works at the University of Melbourne as a horticulturist, another person knows my scheduled-to-meet neighbour who is a Friend of the Altona Coastal Park and yet another person practises Tai Chi, the same hobby as my father-in-law.
It was noon and the perfect time to grab a sausage sandwich.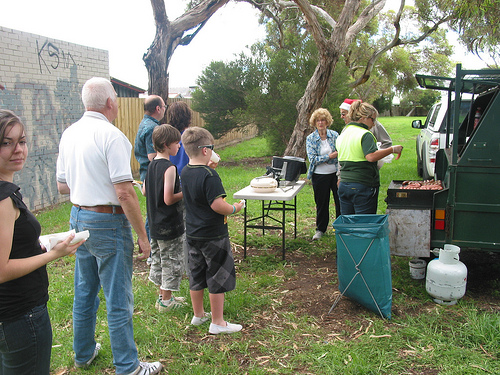 Members from the Hobsons Bay Novelty Band of the Altona Men's Shed, were invited to provide entertainment, singing Christmas carols and playing music. Graham Waghorne, a Seaholme resident, played the banjo while Richard played the guitar. This Band often performs at charities and community groups such as for elderly citizens, either as a complimentary social service or for a voluntary donation. George's daughter, Helen, who is living in Epping, sang the carols with the Band.
How can a Christmas Party full of kids go without a Santa Claus? So here comes Santa!
| | |
| --- | --- |
| | |
| Santa arriving in a car | Kids queuing up for Christmas gifts |
| | |
| Santa giving out goodies bags | Photo opportunity with Santa |
The Christmas bags for the kids contained novelty items such as popping eyeballs. My kids enjoyed the party greatly.
It was time for George to pick the winners of the lucky draw. The second prize was a calendar with old photos of Altona from the Altona Laverton Historical Society while the first prize was a Christmas cake baked by George's wife, Maroula. She has been donating a cake as a prize every year.
Below is the video of the prize presentation ceremony – the finale before the party ended.
I was asking George how he manages to find the funds to hold this party and purchase the presents. He told me about the Noordenne family. Mr Noordenne was in the building trade and his wife was a qualified accountant. They started building houses after he had an accident that injured his leg. They helped a lot of people build their homes over the years and in later years developed the Noordenne estate and the Central Square in Altona Meadows. George was distributing fliers to homes in Seaholme about a Christmas Party he was planning to hold for the neighbourhood. Mrs Noordenne came over, gave him a sum of money for the expenses and did this every Christmas since. When she knew her health was failing, she wrote a letter and passed this to George, saying that if he shows this letter to her daughter, her daughter will continue to support his community work. She passed away last year and her daughter continues to fund this community group.
A possible future project is to landscape the Norah McIntyre Reserve on Noordenne Avenue and transform it into an attractive park to reflect the beautiful community and the place the neighbourhood loves to live in.