My cousin works as an accountant in CapitaLand, one of Asia's largest real estate companies. Its Australian subsidiary, Australand, has quite a large number of property development projects in Australia, including the Viva Carlton, the highly publicized social housing project in Carlton, near the University of Melbourne.
CapitaLand sends its better-performing Singapore employees on an overseas study trip every year, as a company perk. My cousin received a 6-months performance bonus and had a choice of either going to Australia or Japan. He chose Australia as I am living here. He arrived here on the Saturday of 18th Sep 2010 and his trip comprised 3 days in Melbourne, followed by 3 days in Sydney. He was free for only 3 hours on Sunday (9 am to 12 noon) and after 8.30 pm the following day. This constitutes a very short time for me to show him around in Melbourne. Hence, I need to plan very carefully.
First, I would like to show him my house in Altona and my family as he has not yet seen my 6-months old son. I picked him up from Citadines Melbourne on Bourke, which CapitaLand owns indirectly through its stakes in serviced apartment operator Ascott Group. I learnt that Citadines Melbourne on Bourke, just opened on 1 July 2010, is the first Citadines in Australia, the largest in the world for the Ascott group and combines the flexibility of a serviced apartment with the services of a hotel.
As I was driving over Westgate Bridge, he noticed the current works of adding extra lanes and erecting anti-suicidal barriers. He was somewhat surprised as he expects the life here to be much less stressful compared to Singapore which has a very hectic work pace and does not provide any social welfare.
I decided to show him Williamstown first, which I think is one of the most beautiful suburbs in Melbourne. After exiting M1 into Melbourne Road, I took a drive along the eastern shore of the peninsula, passing by ScienceWorks, then onto the Strand and stopping at Nelson Place to have a photo shoot of Gem Pier, HMAS Castlemaine, Melbourne CBD, Westgate Bridge, yachts and Port Phillip Bay. He then visited the Tourist Information Centre to pick up some brochures. The next stop is the Titanic Theatre Restaurant. From its website, the interior appears to be as interesting as its exterior but I do not think I will visit it as its dining experience is beyond my current affordability.
Below are photos taken in 2007
| | |
| --- | --- |
| Titanic Theatre Restaurant | Timeball Tower at Point Gellibrand |
| | |
A short distance away is the Timeball Tower at Point Gellibrand Coastal Heritage Park. Then it is a drive on Battery Road which skirts round the southern tip of the peninsula before continuing into the Esplanade on the western coast. It is a very scenic drive with views of the seas.
Kororoit Creek Road connects Williamstown to Altona. Just before the Werribee train tracks, I turned my car left into Altona Road, which is a poorly maintained road, full of pot-holes, although it is heritage-listed and used by a considerable number of cars. It does pass by some interesting terrains and places, such as the Lower Kororoit Creek, Altona Coastal Park, Pines' Scout Camp, Altona Sports Club, Altona Boat Ramp and Altona Yacht Club. After heavy rains, the section of Altona Road that crosses the Lower Kororoit Creek often becomes submerged under water, turning back motorists.
| | |
| --- | --- |
| Flooded Road Section | Swans on Lower Kororoit Creek |
| | |
| Werribee Rail Bridge across Creek | Pot-holes besides Altona Road |
| | |
I drove along the Esplanade all the way from the Seaholme Foreshore on the eastern end to Maidstone Street on the western end. I told my cousin this is the most scenic coastal drive in metropolitan Melbourne, apart from that in the Williamstown peninsula.
I pointed to him Westona Train Station, Harrington Square, Mount St Joseph Girls' College and Altona College before reaching my house. After conducting a house tour, we need to be on the road again due to lack of time. He walked to Julia Gillard's house to snap a photo before hopping onto the car.
I brought him to Altona Pier, where I showed him the Dandenong mountain ranges. Then we crossed the Esplanade to Logan Reserve. The Altona Homestead was unfortunately not opened. Realizing that he only had a brief breakfast, I decided to have a Sunday breakfast at the Bistro in Altona Sports Club. During the journey, when the car rounded a corner at Seaholme, an awesome view of Melbourne CBD emerged. I was told that mansions along this stretch of the Esplanade commands a very high price all because of this magnificent city view.
My cousin was surprised by the size of the breakfast but managed to finish it. I asked him to sneak a peek at the jackpot machines. In Singapore, you can only see these machines at the newly-opened casinos. As he needs to hurry back to the City in time for a company-arranged tour to Phillip Island in the afternoon, he had to say goodbye to Altona. But he will be bringing memories of Altona back to Singapore for I had passed him a DVD featuring a youtube video on Altona.
After dropping him off at his hotel, we decided to spend the afternoon at the Royal Botanical Garden and Shrine of Remembrance. Our elder two and a half years old daughter enjoyed the outing and our half-year old son attracted considerable attention from both local and international tourists visiting the Shrine of Remembrance.
The following day is a Monday and my cousin is available only after dinner at around 8.30 pm. I was thinking hard of where to bring him on a Monday night. Restaurants are out as he would have taken his dinner. Bars are out as they are not suitable for kids. I would not want to bring him to Williamstown and Altona again. I checked online to see if there are any night cruises on the Yarra River. But these night cruises appear to operate only during summer. It would seem that most places in Melbourne would be closed at this late hour. I even posted a thread on Lonely Planet's ThornTree Forum asking for suggestions but nobody replied.
I remember that a friend brought me to a cake shop in St Kilda some years back and these cake shops are opened until quite late. Perhaps, we can have some cakes, then take a stroll to St Kilda Pier and see if we are lucky enough to encounter some little penguins there. Upon reaching the Melbourne CBD, I began to harbour doubts of going to St Kilda as the weather does not appear to be good. After picking up my cousin at Federation Square, I asked him whether he has walked on the Southbank along the Yarra River to Crown Casino. He did so I put off this idea and decided to proceed to St Kilda. An idea crossed my mind as I was driving down St Kilda Road. I wondered how the Shrine of Remembrance would look at night. Will it be lighted up? I made a detour and we were rewarded by the sight, which looks like a majestic Greek Temple to me.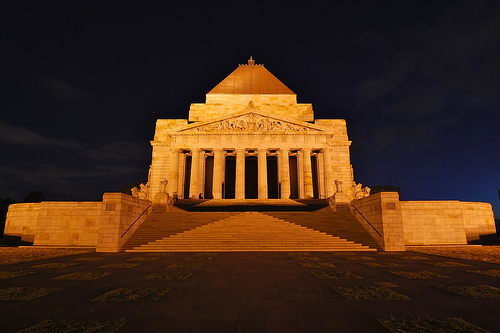 Photo by stephenk1977
When we reached St Kilda, I parked near McDonald and asked for directions to the cake shops. We were told that these cake shops at Acland Street usually close by 10 pm so we decided to visit the shops before going to the Pier. One shop was already closed, another was opened but not accepting any more customer, the third one was too cramped inside to push in a pram so we have to settle for the last one. The cakes do not look appetizing at all so we decided to order just chocolate drinks.
It was showering on and off so I gave up the idea of strolling to the Pier. Instead, I have a better idea. Since the Shrine of Remembrance is lighted up at night, other landmarks in the City will probably be lighted up too. I would bring my cousin on a night tour of Melbourne. My wife and kids can stay inside the car.
The first stop is the Victorian Arts Centre and the National Gallery of Victoria, followed by the City Museum and the imposing Parliament House.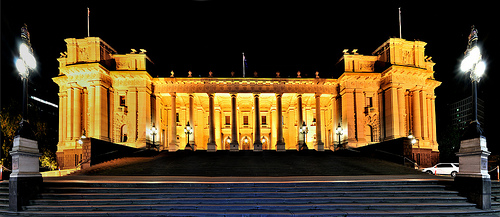 Photo by Nay
I showed my cousin Windsor Hotel and told him this is where many Australian Prime Ministers stay when they come to Melbourne. Then we headed for Carlton Gardens and I told him this is a UNESCO World Heritage Site. He was impressed by the splendour of the Royal Exhibition Building.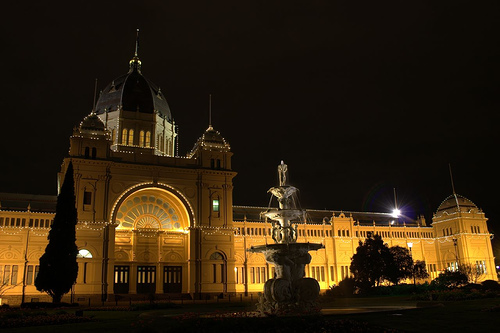 Photo by Andrew Barron
We headed north to the University of Melbourne where I work and in which he is interested in visiting. We passed by Lygon Street, the Little Italy of Melbourne. The restaurants were already closed. Many people may not have known that often tour coaches bring bus loads of tourists to visit the University of Melbourne as a tourist attraction!
It was very late so it was time to go home. I know there are at least two other spots along Swanston Street worth visiting. I stopped at the City Baths for him to take a photo and pointed to him there are "Men" and "Women" signs on the outside. The other place of interest, the Victoria State Library was unfortunately not lighted up. The night tour of Melbourne ended when I dropped him at his hotel in Bourke Street.
By the time we reached home in Altona, we were famished. We can easily whip up something to eat to kill our hunger pangs. I guess my cousin will not be that lucky as I doubt he would be able to find any food outlet opened at this late hour of the night. I should have some foresights in preparing some biscuits for him.
I believe I have succeeded in my mission as an amateur "tour ambassador" for Melbourne! I had managed to compress within 5 hours, visits to the major tourist attractions of Melbourne City, including three bayside suburbs (Williamstown, Altona, St Kilda). My cousin had seen far more of Melbourne than what his accompanying colleagues would have done so. If anybody needs travel advice and suggestions, I believe I can give a helping hand as I am probably more well-travelled than many people who have lived in this City for a far longer time.