Tuesday 21 Sep 2010 was the 6th anniversary of the Altona Beach Market. We learnt that there are many children's activities at Logan Reserve so we decided to bring our two kids there. On reaching Logan Reserve, we were immediately attracted to the animal farm. I figured that there were no less than 20 animals in the enclosure and a great variety too – sheep, goat, cow, deer, duck, chicken, emu, rabbit and so on.
Not only were the children happy, the animals were apparently happy too, chasing each other and jumping around, as depicted in the video below.
There was a free caricature session at the Rotunda for the kids but the queue was long so we decided to give it a miss.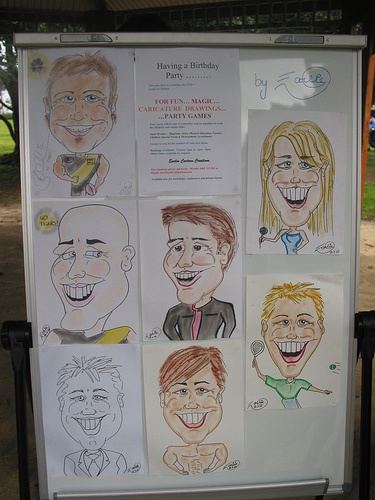 We bought for our daughter a footy souveneir from the stall manned by the Piggy Bank Appeal which aims to raise over $1 million to support families of children with life-threatening illnesses.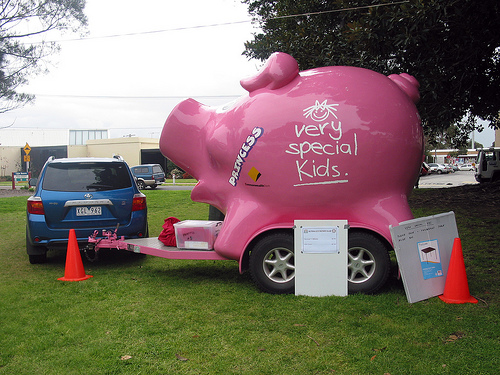 We tried to coax our two and a half years old daughter to enter the jumping castles but she was too afraid to do so.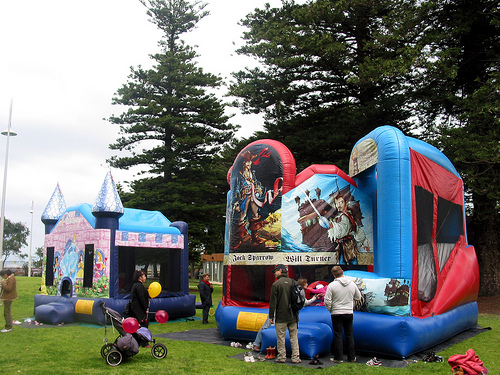 It was 12 noon and we were feeling hungry so we decided to buy some sausages in bread from the stall manned by the Altona City Rotary Club. Leon Mancini, the boss of Mancini Real Estate, was there busy serving the sausages.
I feel that many people in Altona are doing their parts in making Altona a better place to live. I am deeply appreciative of the foresight of Altona Village Traders Association in setting up the Altona Beach Market. I did not realize that the Market is only six years old. I moved to Altona three years ago so I had actually witnessed half of its history.
The decision to hold the market on a weekday is probably a wise move. As a nascent market, it would have faced too much competitions from established markets in other parts of Melbourne if it is to be held during the weekends. The Altona Beach Market and the shops along Pier Street also complement each other, helping to pull in a larger crowd than if they are to operate independently. I can sometimes see coach buses bringing tourists to visit the Altona Beach Market. I do not think there are many markets held on a weekday elsewhere in Melbourne. Hence, the Altona Beach Market carves itself a niche by filling this vacuum and providing an option for tourists to spend their times on a Tuesday.
The Altona Homestead used to be open on Sundays. The Altona Laverton Historical Society which manages the Homestead made a strategic move in shifting their opening hours to Tuesdays to cater for the visitors to the Altona Beach Market.
It is my hope that the Altona Beach Market will one day rival established markets such as Camberwell Market in fame. Happy 6th Birthday!