We noticed the "Farmers Market" sign at Altona Primary school (109 Blyth Street, Altona) when we drove past it a few times. Initially, I thought this is a one-off event. Then I realized this is probably a recurring activity. It was only yesterday that I managed to visit it for the first time. In fact, yesterday was the third time the market was held, which runs on the third Saturday of each month from 9 a.m. to 1 p.m.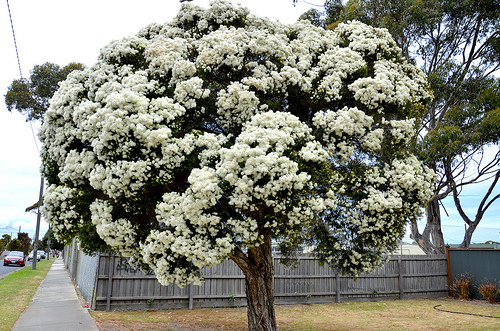 Altona Primary School behind this "Cauliflower Tree" at Railway Street South
The Altona Farmers Market grew out of the passion of one particular parent, Sally Leung, asking "why can't we have a Farmers Market like Spotswood Primary School?" Sally and a number of other parents were driving to Spotswood's monthly market and it was thought that the model by Inseason Markets (which organize all the stallholders, set up the stalls, clean up, etc) would be good for Altona Primary School.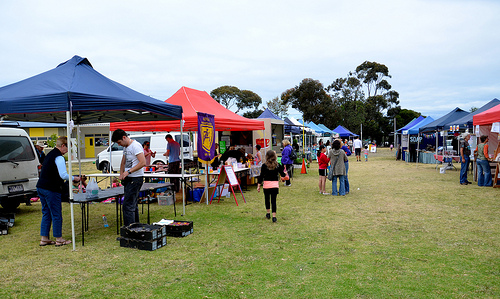 Sandra Wilson was the school council president at the time and she supported the market though she recognized that it would need the support of the school for the use of its grounds and amenities, the support of a lot of parents on an ongoing basis and the support of the "buying community" for it to be sustainable.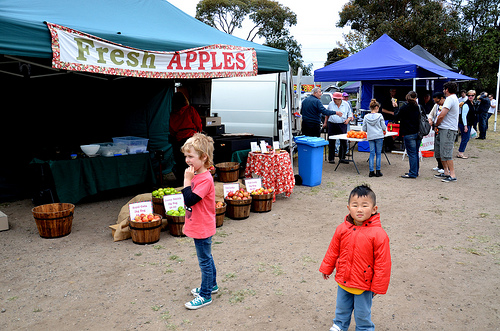 Fresh Apples, Oranges and Strawberries
Altona Primary School had a market on its grounds about 8 years ago. It lasted about 6 months and then folded. The format was different. For example, the layout was different from the current one. It did not have the involvement of parents and its offerings were a bit sparse. Therefore, it did not generate the revenue needed by stallholders.
Some people in the school community remembered this experience and initially there was a little reluctance to have another go. The school council then put together a survey asking for expressions of support for attending, buying, volunteering and serving on the working party. The resultant support and subsequent thorough planning was enough to get the market off the ground.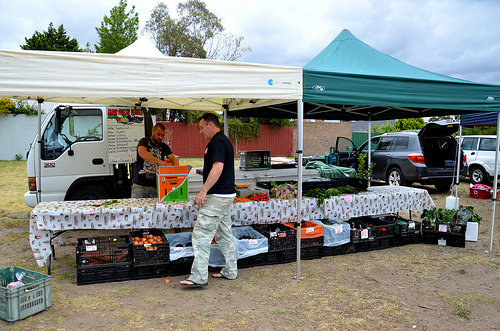 The Fresh Vegetables Stall packing up at closing time
There are various benefits for Altona Primary School. The market opens up the school to the broader community and presents a fund-raising opportunity through the gold coin entry and sales from the school's sausage sizzle stall. The school council was able to off-load secondhand books left over from another fundraising initiative.
Many parents are unable to get involved in parent club initiatives during working hours. The market has enabled them to contribute to the school in the following way – gate duty for an hour, sausage sizzle for an hour, etc. The parents also get to network with other parents that they would not ordinarily get to meet.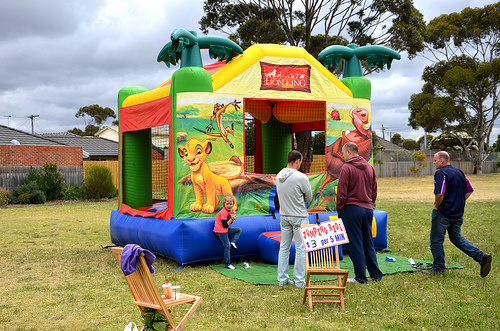 Not sure how many parents would pay $3 per 5 minutes for the Jumping Castle
There is also entertainment by school children e.g. ukele group, drama group and the school working group is seeking ex-students/parents or other community buskers for the future.
The ongoing sustainability of the market will rely on people coming each month to buy (that will keep the stallholders coming back) and having good stallholders to attract people. In other words, each needs the other!
Yesterday produces include fruits (oranges, apples, strawberries), handmade pasta, cakes and pastries, bread, organic veggies, handmade soap, sauces, lamb, live mussels from Mt Martha as well as ready-to-eat food options, coffee, jumping castle, petting zoo, face painter, etc. Some stallholders did not have a great day yesterday. For example, the mussel man said that he needed to sell 120 kg of mussels for it to be a good day and his expectation was not met.
Word travels amongst stallholders whether it is a worthwhile location or not. The school working group is committed to it for a 12-month period and seriously wants it to be sustainable to offer good produce, sense of community, etc. Fundraising is important but not the main focus of the working group.
The weather was not good yesterday's morning with intermittent drizzles. The sky only started to clear up after 12 noon. It was about 12.45 p.m. when I arrived at the market with my son. There were few visitors, perhaps because of the bad weather and it was near closing time so many stalls were already packing up. My wife joined us from Tarneit after our daughter had completed her morning Chinese language lesson there. It was 1.20 p.m. and we decided to try some food from the stalls that were still operating. She was charged a close-time special of $5 instead of the usual $10 for 2 large and 5 small spring rolls. The spring rolls, with filling of prawns, meat and crispy cabbages, tasted very delicious. There appeared to be several other interesting food stalls as well so we would visit the market again.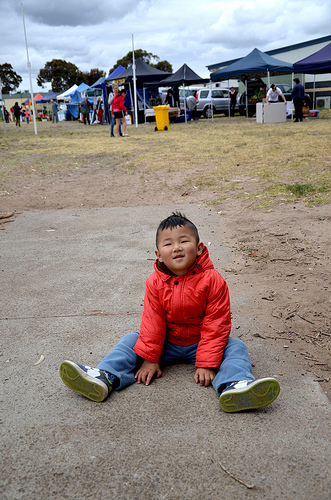 PS. Sandra Wilson hopes that the Mussel Man returns because she has never tasted such sweet mussels.