I would say that Australia Day is the next most significant annual public event in Altona after the Bayside Festival. The Hobsons Bay City Council and Altona Village Traders Association have organized a series of activities in Logan Reserve, starting from noon.

By the time we arrived at 2.30 p.m., many people had already congregated at Logan Reserve. Patriotism was evidently displayed by the omnipresent Australian flags, which were used to drape stuff ranging from poles, chairs, cart to human bodies.
We headed straight to the State Emergency Services (SES) marquee where there was a sausage sizzle in which the proceeds would go to help the flood victims in Queensland and Victoria.
The Altona Beach Market was shifted from the usual Tuesday to Australia Day, the day after. There were over 60 stalls offering art, craft, food, fresh produce, clothing and jewellery along Pier Street and in Weaver Reserve.
The Altona Homestead was open from 10 am to 5 pm. It had invited Dr Fay Woodhouse, author of the Altona Yacht Club History book, to discuss writing local history. On sale were historical publications from the Williamstown Historical Society as well as hundreds of rare postcards from the world's great museums and art galleries all for $1 each.
Our daughter was excited by the free Cobb & Co and Cinderella coach rides, sponsored by Bendigo bank. After all, it is not a common sight to see horse coaches plying the streets of Altona.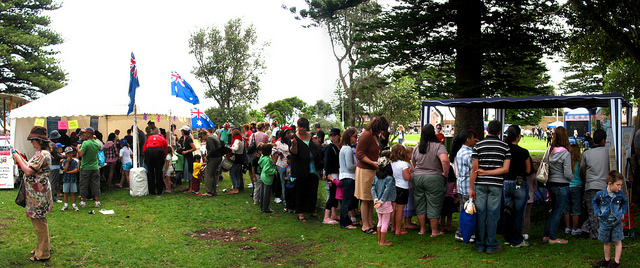 There were a lot of children activities, including kite making, sand art, bottle sand art, caricature, face painting and jumping castles.
The adults were entertaining themselves through picnics, kite flying, listening to concert and dancing. Some had even pitched fully-furnished, self-contained tents in Logan Reserve.
The Hobsons Bay City Council holds a series of free open-air concerts, called Summer Sounds concerts, in Altona, Williamstown and Laverton every Summer. The first 2011 Summer Sounds concert was on 16th January. The third concert was scheduled on Australia Day. The local duo, G and T played from 2 to 3 p.m. This was followed by the performance of Steve Purcell 's Pearly Shells Orchestra, featuring a modern twist on a classic sound. The above video and the photos below capture the mood at the concert.
The Australia Day celebrations culminated in a firework display at 9.15 p.m. By the time we reached Altona Beach, the Pier and the pedestrian path besides the Esplanade were already filled with spectators. I could not help in drawing parallel to the Penguin Parade scene in Phillip Island, where everyone was watching intently towards the sea, in earnest anticipation of a great spectacle.
As dusk fell and the sky dimmed, a firework was shot into the night sky and exploded into an extravaganza of colours, drawing loud applause from the spectators. Happy Birthday Australia!