Update: Quite many people have emailed me for the contact details of the person. As I am quite busy, I may have missed emails or forget to reply. You can email him directly. His name is Efrem and his email address is lightyearsfast@gmail.com
We have a Mitsubishi Magna and with two child seats, there is hardly any space to bring visiting relatives and friends around. Hence, we decided to get a car with higher passenger capacity. A new car will be too expensive for our budget and I am not willing to pay a premium for a depreciating asset class. The only option is to go for a second-hand car.
A google search on "what family car to buy" leads me to a discussion thread on the Whirlpool forum site. Several posters on that thread suggested Toyota Tarago. Bought by their arguments, I did a search for Toyota Tarago on carsales.com. I came across a Tarago that has very low kilometres (69,450 km), within my budget range and located not too far away from where I stay. Upon reaching home, I showed my wife this car listing and she was too pleased with the car appearance, as shown from its listed photos. The only cause of concern is that 69,450 km seems too low for a 2003 year model, as even listed 2008-9 Tarago models clock up much higher kilometres.
I had decided to give the seller a call. I was told the listed car was already sold. However, he told me he has another almost identical car selling for the same price. This made me very wary as Toyota Tarago is a 8-seater people mover so it will not be common for most families to own one, let alone two similar vehicles of low kilometres which are being sold at the same time. The thought that he may acquire these cars illegally crossed my mind. Nevertheless, I made an appointment with him to inspect the car the following day (a Saturday).
With utterly no mechanics skills and knowledge, I spent the whole Friday night in front of my computer, searching the internet for articles and Youtube videos on how to inspect a used car. I regretted not having asked my neighbour for some tips on car inspection prior to making the appointment. Knowing that two pairs of eyes are much better than one, I insisted that my wife should be actively involved in the inspection process. We arranged for a friend to help look after the kids at home so that we would not get distracted during inspection.
The seller lives in Taylor Hills which is north of Caroline Springs. The first question I asked him is why he has two Toyota Taragos for sale. He told me he had been a car mechanics for 30+ years, used to run a shop in Sunshine selling second-hand cars and is now semi-retired, importing used cars from Japan for sale. He showed me the Toyota which was parked behind his garage and was just picked up from Melbourne Airport the day before or a few days earlier. He told me that this Toyota is in fact in a better condition than the one just sold. It has slightly lower mileage (about 62,000 km) and is silver in colour, which I actually prefer over the white colour vehicle that he had just sold. However, I found that the car is called Toyota Estima (model is Aeras ACR30), not the Toyota Tarago that was listed. He explained that the Japanese version of Toyota Tarago is called Estima and both are in fact the same vehicle. I later found out from Wikipedia that the US version is called Toyota Previa. I suppose he has a valid reason to list it as Tarago as most Australians would not have heard of Estima, hence greatly limiting the number of searches for Estima.
He went through in detail with us the different parts of the car, even lifting it with a carjack to enable inspection of the car's base. Everything looks in tip-top condition and for a novice like me, the car really appears very new and not like what I would expect of a 9-year old car. We are pretty impressed with the features, such as the reverse camera, gear on the dashboard, xenon headlights, tinted windows and second/third row chairs that are highly-maneuvrable – slidable, swervable and can be flattened. There are three anchor points behind the third row seats which allow harness attachment to child car seats. Unfortunately the GPS system and TV are only operational in Japan, not in Australia. But the CD, DVD and USB player, and radio are sufficient for our needs. We also did a test drive (with a test drive plate). The very large side mirrors and elevated height provides an enlarged and unobstructed field of view which is particularly helpful when changing lanes or turning into another road.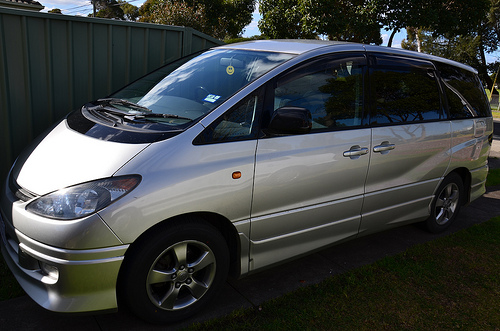 I asked him why the mileage is only 62,000 km for a 9-year old car. He explained that Japanese do not drive much, usually only during weekends and over short distances, preferring instead to take public transport. The following online sources (Ref 1, 2, 3, 4, 5) also give other reasons such as high parking fees and the need to undergo periodic expensive roadworthy tests called "shaken". The seller showed me an online Japanese auction site where he sourced the cars from and all the cars listed there are of very low kilometres.
When I expressed my intent of purchase, he told me that I would need to wait for another 2-3 weeks for roadworthy test, registration and compliance works such as the checking of seat belts and change of wheels for conformance to Australian standards. He has another people mover – a white colour Nissan Elgrand – ready for immediate driveaway as all its paperwork and compliance checks had been completed. He explained that this Nissan Elgrand is more powerful (3 litres and 6 cylinders compared to the 2.4 litres 4 cylinders Toyota Estima) and has more luxurious features such as leather seat upholstery and woodgrain dash. I actually prefer the external appearance of the Toyota Estima as the Nissan is white and with a box-like appearance, looks more like a van. I asked the seller which has better resale value. He said probably the Toyota. Coupled with the fact that this Nissan is less fuel-economical and more expensive by a thousand dollar, I decided to stick with the Toyota.
I placed a deposit and the seller said he would take care of all the paperwork. He recommended Just Car Insurance as it specializes in doing imported cars and advised that I should get the insurance ready by the day of pickup. I called Just Car a few days later and was shocked by the $1330 premium quoted. Although this is reduced to $1199 with online quotation and correction of a detail that I initially supplied, this is still extremely expensive. From my online research, I realize most insurance companies are not willing to insure imported vehicles. Only a handful of companies do and their premiums are exorbitant. The reasons are that these companies see imported cars carrying a greater risk as they may not be built to comply with Australian standards and the spare parts may be expensive or difficult to obtain. Hence, I am faced with two concerns – the expensive premium and whether it is going to be difficult to obtain spare parts for the Toyota Estima.
I called the seller and told him that I am not aware that the premium is going to be that costly. He understood my position and said he would return me the deposit if I do not wish to go ahead with the purchase. He also reassured that the Toyota Estima is the same as Toyota Tarago and there will no problem sourcing for the spare parts. This was confirmed by a few online sources (see 6, 7, 8, 9, 10) The earlier models Lucida and Emina (made before the year 2000) are narrower and shorter than the standard model (Ref 11) but according to this post on Whirlpool forum, it will be fine if it is the later ACR30 model whose chassis is identical to the Australian version.
With the spare parts problem settled, the expensive premium remains a problem. I did an online quotation with Suncorp Metway which gave me a premium of $1100+. Shannons Insurance did have a lower premium of $850 but when I called the company, I was asked whether I am a member of any car club and whether I am using the car on weekends alone or on weekdays. The company refused to insure me because I am not a motor car enthusiast and had recommended me to try Just Car instead.
This Toyota Estima still greatly appeals to me. It will not be possible to get a local Toyota Tarago of the same condition, mileage and features (some call them "bells & whistles") for the same price as the Japanese import. Furthermore I have a positive experience with the seller and will not like to go through the hassles of arranging babysitting for future rounds of inspection. This was during the weekend and some insurance companies were not contactable. Not giving up, I decided to call them on the coming Monday. I was quoted $900+ by Lumley Special Vehicles Insurance and $719.70 by Enthusiast Underwriting. I had previously contacted RACV Insurance on the Saturday and as they require an underwriter to quote for an imported car, I called them again on Monday and was quoted $790.28. I decided to go with RACV Insurance though it is more expensive than Enthusiast because I have not heard of Enthusiast before while RACV is reputable, omnipresent and is a brand name that I can trust. In addition, it also provides a 21-day car hire. I only recently read of this post that suggests NRMA so I do not know whether it would offer a cheaper premium. I have also found two websites (12, 13) that provide contact details of insurance companies that cover imported cars.
Insurance companies seem to apply a blanket bias on cover for imported cars. But if you analyze more deeply, a single treatment for all cases is not justifiable. The need for compliance work means that imported cars are tested and made to conform to Australian safety standards before being allowed on the roads. The argument that spare parts will be difficult to source is fair enough. But this does not apply to all car makes and models. For example, Toyota Estima ACR30 is the same as Toyota Tarago so there will no problems of repair and maintenance. Hence insurance companies should look individually at each specific model and year of manufacture in determining the risk, rather than lumping all imported cars together. Among the various reasons given (Ref 1, 2, 3, 4, 5) for buying used Japanese cars include their excellent well-maintained conditions and less engine troubles in the event of an accident. Also people movers are usually used by families to carry their children around. They are more likely to be matured drivers, rather young rash drivers. For the various reasons given, Toyota Estima and other similiar Japanese imports should actually present a lower road risk relative to local second-hand cars which will have far higher kilometres and that are not so well maintained. For these reasons, I think insurance companies should re-examine their existing assumptions towards specific categories of imported cars.
Text shown on the LCD screen and a few buttons are in Japanese so I was searching for online user manuals on Toyota Estima to download. I did not find any. The Australian Toyota site does not provide downloadable manuals. The US Toyota site does provide online manuals to US customers only. However, I did find a forum and two Facebook pages (set up by the fans) – one is the model guide while the other are FAQs. The seller is very kind and helpful. He spent a lot of time demonstrating the different parts of the car on the three occasions we met him, during the first inspection, when I passed him my driver licence for registration and when we finally picked up the car. He is patient and helpful in answering the many questions that I have asked him. He even told me to call or email him if I have any problem with the car.
I realize that you can actually import car into Australia by yourself. But the procedures (see 14, 15, 16, 17, 18) appear to be cumbersome and lengthy. You also have to take on a certain level of risk, such as not seeing the car physically (though photos are available) before committing to buy it. If I am to buy another imported car, I will again approach this seller. My good experience with him made me believe that he is a reliable and trustworthy person. You are welcome to email me for his contact details if you are considering to buy an imported car through him.