Recently, two friends from overseas asked me where they could visit during winter. Melbourne's winter which runs over 3 months from June to August, is my least favourite time of the year for various reasons:
Melbourne's winter will be mild for many people from other temperate regions but is still cold for someone like me from the tropics. Though it does not snow in Melbourne or most parts of Victoria, temperature can drop to 1-2°C during dawns and maximum day temperature can go as low as to around 10°C.
I need to wear many layers of thick clothing, which I am more happy to do without.
Daylight is short from around 7 a.m. to 5-6 p.m.
Skies are usually downcast and gloomy, with not many sunny days.
Melbourne's winter is also the raining season and it is pretty bad this year, with many weeks seeing only 1-2 days of non-raining days.
Melbourne is a city of events – most are held during summer and relatively much fewer activities, particularly outdoor events, occur during winter.
I will not advise overseas friends to visit Melbourne during winter, unless they are coming for the skiing. But some tourists may choose this low-peak season for the relatively cheaper airfares and accommodation and less crowded destinations. You could still visit the same tourist attractions as at other times of the year but you will have to be prepared for more adverse weather conditions such as cold weather, raining, shorter daylight and undesirable sunlight conditions for good photography.
From my online research, I have come up with a list of places that you can visit and activities that are held during this time of the year.
1. Skiing and Snow Resorts in the Australian Alps
Victoria's alpine region north-east of Melbourne is a major winter sports area and a very scenic part of Australia (best viewed during autumn and spring). The ski season starts on the first weekend in June and runs through until early October, depending on conditions.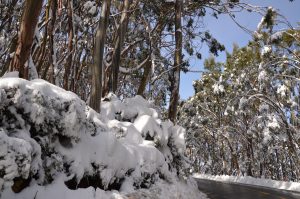 Downhill Ski Resorts
Dist
from Melb
Facilities
Accommod
Note
Mt Buller
246km
3h drive
27 lifts
80km ski runs
160 ha
7000 beds
Most popular
Falls Creek
375km
18 lifts
4200 beds
20 hotels/lodges
Second largest
winter resort
Mt Hotham
(& Dinner Plain)
375km
13 lifts
245 ha
Wide variety
Fastest growing ski
resort with an airport
Mt Baw Baw
160km
2.5h drive
25 downhill trails
37 ha, 8 lifts
10 km x-country trails
Limited
Mt Buffalo
330km
7 lifts
Mt Buffalo Chalet
Much smaller ski area.
Suit beginners &
intermediate skiers.
Cross Country Resorts
Back Country Ski Areas
For further details:  1, 2, 3, Snow Report

2. Warrnambool (Whale Watching)
There are at least two good reasons to visit Warrnambool during winter. Logan's Beach on the eastern side of the city is recognized as a nursery site for the Southern Right Whale Eubalaena australis. In most years, 1-3 adult female whales arrive between late May and August, giving birth within days of their arrival. The young whale calf is then reared at the site, usually departing with its parent by mid to late September.  Visitors can view the whales from the Logans Beach Whale Viewing Platform. However, sightings of the whales depend largely on luck.
Besides the Southern Right Whale, the coastline is also visited by Australian Fur Seals, Little Penguins and the Common dolphin. During the winter and early spring, albatross cruise along the coastline and can be sighted from Thunder Point, a popular coastal lookout in the town. Middle Island in Stingray Bay has a colony of little penguins.
Warrnambool is home to Australia's biggest children's festival, the Fun4Kids Festival, which is held during the first week of the Victorian winter school holidays (July), next to the Warrnambool Entertainment Centre. This unique event designed specifically for kids, has grown to be a "must do" family experience, attracting over 25,000 visitors annually. The Lake Pertobe Adventure Playground, a 20 hectare adventure playground, is a paradise for kids.
There are also many other attractions in Warrnambool such as the Flagstaff Hill Maritime Village (a theme park like Ballarat's Sovereign Hill) and the foreshore, where visitors can spend hours. Warrnambool is a 3-hours drive from Melbourne via the Princes Freeway/Highway and is served by V-Line trains.

3. Melbourne Winter Masterpieces
Introduced in 2004, the Melbourne Winter Masterpieces is an annual series of major exhibitions which balance curatorial excellence with popular appeal. They are held over 100 days between June and October at the Melbourne Museum, National Gallery of Victoria (NGV) and Australian Centre for the Moving Image (ACMI). The exhibits are sourced from prestigious galleries and institutions from around the world.
The Tutankhamun and the Golden Age of the Pharaohs exhibition at Melbourne Museum last year had smashed all records for touring exhibitions in Australia, attracting a record 796,277 visitors of which more than 326,000 people were from interstate or overseas, thereby giving a major boost to Victorian tourism (Ref 1, 2).
Currently, the NGV is showing Napolean: Revolution to Empire and ACMI is showing Game Masters. Melbourne Museum is featuring The Wonders of Ancient Mesopotamia which is not part of the Winter Masterpieces series. You can refer here for previous Winter Masterpieces exhibitions.
The popularity of these exhibitions has a lot to do with Melbourne's winter when people prefer the warmth accorded by these indoor venues compared to outdoor activities (Ref 3).

4. Melbourne International Film Festival
Established in 1952, the Melbourne International Film Festival (MIFF) is one of the world's oldest film festival (one year younger than Cannes) and is the most significant screen event in Australia. It hosts a feast of cinematic delicacies from over 50 countries for some 17 days each winter, heavily garnished with a range of parties and special events that envelop the CBD.
MIFF showcases the best in current cinema from around the world as well as retrospectives, tributes and Talking Pictures discussion programs. Since its inception, MIFF has been committed to local film – it screens a wide array of Australian films every year and hosts many celebratory world premieres of local films. Hence, apart from providing audiences with a unique window on the world, MIFF has acted as the leading intellectual and artistic catalyst in Australia's screen cultural landscape.
MIFF enjoys annual admissions of 185,000, making it one of Melbourne's significant public events.

5. Open House Melbourne
Open House Melbourne (OHM) is a not-for-profit association that runs an annual city-wide open house on the last weekend in July, providing the public a free and rare opportunity to discover a hidden wealth of architectural, engineering and historic buildings nestled around the city.
The inaugural OHM 2008 event saw 8 buildings open and more than 30,000 visits. Since then, the event has grown and by 2010 it featured 59 buildings, incorporating Docklands in addition to the CBD. In 2011, 75 buildings opened their doors to the public. This year on the 28th and 29th of July, OHM opened 100 spaces including commercial, residential and green buildings, as well as places of worship and sporting grounds. Here are some news coverage of the places: Ref 4, 5, 6, 7, 8, 9.

6. Melbourne Cricket Ground
The Melbourne Cricket Ground (MCG) is the 10th largest stadium in the world, the largest in Australia, the largest stadium for playing cricket and holds the world record for the highest light towers at any sporting venue. The MCG is within walking distance of Melbourne CBD and is serviced by the Richmond and Jolimont Railway Station. Internationally, the MCG is remembered as the centrepiece stadium of both the 1956 Summer Olympics and the 2006 Commonwealth Games. Listed on both the Victorian and the Australian National Heritage Register, the MCG is referred to within Victoria as the "Spiritual Home of Australian Sport".
Throughout winter, it serves as the home of Australian rules football, with at least one game (though usually more) held there each round. The stadium fills to capacity for the AFL Grand Final in late September or early October. During winter, especially around July, tickets are fairly easy to get and reasonably priced.
Tours of both the stadium's grounds and private areas along with its adjoining National Australian Sports Museum are available year-round and provide a special insight into the venue and its illustrious history. As part of an MCG tour,  the visitor can go behind the scenes of the stadium, sit in the coach's box, visit the media centres and change rooms, etc. Those not familiar with the game can engage an expert host to explain the rules as they watch the game.

7. Docklands Winter Program
The City of Melbourne showcased its 2012 Docklands Winter Program at Victoria Harbour with a 10-minute fireworks display at 7 pm on every Friday in July. Each display was accompanied by a music soundtrack which can be heard along the promenade at Waterfront City. In addition, roving entertainment commenced at 6.30 p.m. prior to the fireworks exhibit.

8. Melbourne Aquarium
Located besides the Yarra River in the city, the Melbourne Aquarium is another indoor attraction that is ideal for the cold days. The aquarium is divided into 4 separate "worlds" that each emphasizes a different aspect of aquatic life. It is the only place in Australia which houses the Antarctic penguins. Other highlights include daily shark and stingray dive-feeding shows in the aquarium's famous "fishbowl".

9. Scienceworks
Scienceworks, located at Spotswood, is a good educational and recreational attraction for both children and adults. It is currently showing the Wallace and Gromit's World of Invention, based on the BBC science show featuring the animated claymation characters Wallace and Gromit. Visitors will be able to explore 62 West Wallaby Street, a life-size version of Wallace and Gromit's home and discover how simple ideas transform into life-changing inventions. These colourful inventions include the Telly-scope II, the Blend-o-matic, the Thinking Cap and the Karaoke Disco Shower. The exhibition will also feature the original film sets including Top Bun Bakery, the Living Room, the Dining Room, Wallace's Vegetable Plot and the Garden & Greenhouse.

10. Walhalla Vinter Ljusfest
Started last year, the Walhalla Vinter Ljusfest is in its second year and runs from 1-26 August 2012. Created in the Swedish tradition of celebrating the winter, the Vinter Ljusfest transforms Walhalla Historic Township into a world of light, moving images and sound in the darkness of midwinter. Daily light shows operate from 6.30pm until 9.30pm. The theme for 2012 is "Hot August Night" – a tribute to the great Neil Diamond album that celebrates its 40th anniversary in 2012. Apart from the light shows, there are light trains, ghost tours, karaoke and free concerts.

11. Winter Solstice Celebrations
The winter solstice is the day of the year with the shortest daylight and fell on 23/06/2012 this year. Several places had celebrated this special day and include:
Refer here for further details.

12. Warmer Escapes in Victoria
Mildura in the state's far northwest is one of the warmest places in Victoria during winter (mean 15.3°C maximum temperature in July)  and receives the most amount of sunlight (Ref 10, 11, 12). Mildura's tourism site has suggested the following places to visit during winter:
Lakes Entrance is another place that is a few degrees Celsius warmer than Melbourne in winter and which remains popular with tourists during this time of the year.

13. Escape to a Quirky Town
This article suggested 3 towns:

14. Winters Festival
The Lipton Chai Latte Winter Festivals is an annual celebration, starting in June each year, that is centered around the largest outdoor ice rink in the Southern Hemisphere. Now in its 3rd year, the Winter Festivals grow beyond Australia's East Coast to include Fremantle in Western Australia. Apart from ice-skating, other highlights of the Festival include kid's parties, entertainment, live music and food. The venue in Melbourne was at St Kilda from 29th June to 15th July 2012.

15. Echuca Moama Winter Blues Festival
In its 13th year, the Echuca Moama Winter Blues Festival, held in July, is quickly becoming one of the region's most eagerly awaited events, attracting large crowds of Blues enthusiasts and a growing number of high quality Australian and International Blues performers.

16. Warm and Cosy Accommodation
Places with indoor spas, fire places and restaurants serving hot food could be ideal winter getaways. Some suggestions include:

17. Chill On Ice Lounge & Ski Lodge
This is the complete opposite of the previous suggestion. Instead of seeking a warm and cosy place, why not chill it out in Melbourne? Melbourne winter is sufficiently cold to put on extra clothings but not that cold to experience the winter wonderland. Look at photos of the Ice Lounge and Ski Lodge, which is located on Southbank. My wife told me that places with similiar concepts were very common in China many years ago. I will like to visit the Ice Lounge but am put off by the admission price.
There was also a Disney on Ice show "Let's Celebrate" at Hisense Arena from 4-9 July 2012.