Hobsons Bay is a hot destination for film making, with about 50 film permits being issued a year, injecting a considerable amount of money into the council's coffers as well as the local economy.
Channel 10 series "Rush" location manager Peter Muston said Hobsons Bay's mix of lavish homes and industrial areas made it a popular choice for Melbourne-based TV shows. "It offers a great variety of looks from sleek, modern houses with fantastic city views across the bay on The Strand, gritty industrial landscapes around Spotswood, Newport and Altona North and bustling urban centres in Newport and Williamstown. Because the area has developed over so many years, it also offers quite specific pockets of residential development periods from the 1950s through to the current McMansion housing estates." (Ref 1) Hobsons Bay Council planning and environment officer, Peter Hunt said, "A broad array of heritage streetscapes, coastal landscapes and wide parklands all within close proximity of the city has caught the eye of many film makers." (Ref 2)
This post attempts to cover the movies, TV programs and commercials being filmed in Hobsons Bay, based on what I could research from the internet. As such, it will not be a comprehensive coverage. I will cover filming in Altona in a separate post. I have provided video links and links to official websites as well as articles on the filming. You may be able to identify familiar areas and neighbourhoods in these videos. For many of these films, other than knowing that they were filmed in Hobsons Bay, I do not know the specific filming locations and dates. You are welcomed to share via comments if you have such knowledge.
Filming in Williamstown
Williamstown accounts for the bulk of the filming in Hobsons Bay, featuring box-office movies and TV series such as Charlotte's Web, Where the Wild Things Are, Knowing, Mad Max, Rush, Underbelly, City Homicide, Blue Heelers and Stingers. I will elaborate on the specific filming locations after this table.
Title (Video/Story)
Genre
Network/ Distributor
Release Date (Filming Date in HB)
Creator/ Director
Actors
Golden Girl (v/s)
Short Film
Happening Films
13/11/2011 (Jan 11)
Grant Scicluna
Marny Kennedy, Hanna Mangan-Lawrence,
Charlie Bean's Great War (v/s)
Documentary
Foxtel History Channel
11/10/2010 (Jul 10)
Wain Fimeri
Nick Farnell, Margot Knight
Matching Jack (v/s)
Drama Film
20th Century Fox
19/08/2010 (May-Jun 09)
Nadia Tass
Jacinda Barrett, James Nesbitt
I Love You Too (v/s)
Romantic Comedy
Roadshow Films
6/05/2010 (May 09)
Daina Reid
Brendan Cowell, Peter Dinklage
Where the Wild Things Are (v)
Movie
Warner Bros
16/10/2009
Spike Jonze
Max Records
Gardening Australia (s)
Documentary
ABC
5/06/2009 (May 09)
Stephen Ryan
Knowing (v)
Scifi Movie
Summit Entertainment
20/03/2009
Alex Proyas
Nicholas Cage
Rush (v)
Police Drama
10
2/09/2008 (2008-2011)
John Edwards, Christopher Lee
Rodger Corser
City Homicide (v/s)
Police Drama
7
27/08/2008 (2008-2010)
John Hugginson, John Banas
Various
Underbelly (v/s)
TV Drama
9
13/02/2008
Greg Haddrick, Peter Gawler, Felicity Packard
Caroline Craig, Paul Tassone, Daniel Roberts
Newstopia (v/s)
Satirical Comedy
SBS
10/10/2007 (Nov 2007,
Oct 2008)
Shaun Micallef
Shaun Micallef
Wilfred (v)
Comedy Series
SBS1
19/03/2007 (Jul 09)
Tony Rogers
Jason Gann, Adam Zwar, Cindy Waddingham
Charlotte's Web (v/s)
Movie
Paramount Picture,
Warner Bros
7/12/2006
Gary Winick
Dakota Fanning, Julia Roberts, Oprah Winfrey
Irresistible (v)
Movie
Palace Films
16/04/2006
Ann Turner
Susan Sarandon, Sam Neill,
Emily Blunt
My Brother Jack (v/s)
TV Mini-Series
10
3/06/2001
Ken Cameron
Matt Day, Simon Lyndon
Blonde (v)
TV Mini-Series
CBS
13/05/2001
Joyce Chopra
Poppy Montgomery
Stingers (v/s)
Police Drama
9
29/08/1998
Various
Peter Phelps, Kate Kendall, Anita Hegh
SeaChange (v/s)
Comedy Drama
ABC
8/05/1998 (1998-2001)
Andrew Knight, Deborah Cox
Sigrid Thornton, John Howard, Cassandra Magrath
Blue Heelers (v/s)
Police Drama
7
18/01/1994
Tony Morphett, Hal McElroy
John Wood, Julie Nihill
Round the Twist (v)
Children Comedy
7, ABC,
Aust Network
4/08/1989
Paul Jennings
Various
The Henderson Kids II (v)
TV Series
10
(1987)
Paul Moloney
Paul Smith, Nadine Garner, Bradley Kilpatrick
My First Wife (s)
Drama Film
Roadshow Entertainment
13/09/1984
Paul Cox
John Hargreaves, Wendy Hughes, Lucy Angwin
Mad Max (v)
Action Film
Village Roadshow
12/04/1979
George Miller
Mel Gibson
Dance for Doritos (Sadler Reserve)
Competition Entry
Mark Deere
(Jul 10)
Mark Deere
APIA 2010 Ad
TV Commercial
(Jul 10)
Where the Wild Things Are
This is a 2009 box-office American fantasy movie directed by Spike Jonze. It is adapted from Maurice Sendak's 1963 children's classic, about a mischievous boy named Max, who creates his own magical world inhabited by enchanting creatures who crown him as their ruler. After scouring the world for 18 months, Spike Jonze chose 11 Victorian filming locations, including Discovery Bay, Gembrook, Williamstown and Newport. A two storeys high, American style house at 16 Tobruk Crescent, Williamstown, matching the description in the book, was selected to be the home of Max. Two other key conditions were also met. The resident family had to be relocated for 6-8 weeks and the neighbours had agreed to have 100 tonnes of snow dumped in their street for 3 days because the film is set in winter. Scenes where Max runs away from home and crosses the ocean were filmed at Newport Lakes. The film's production generated $57 million for Victoria's economy and created more than 670 local jobs (Ref 3, 4).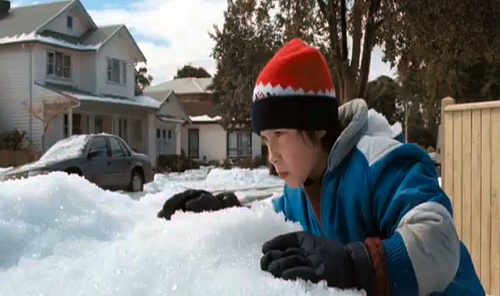 Blue Heelers
This police drama series on Network 7 depicted the lives of police officers in the fictional Victorian town of Mount Thomas. It was Australia's most popular TV drama, drawing more than 2.5 million viewers weekly at its peak and has the most episodes produced of a weekly prime time drama.
To contain production costs, coastal Williamstown with its notable Victorian and Federation architecture was chosen for the location scenes as it is near to the South Melbourne studios of Network 7. The scenes in the police station and pub were filmed inside Stags Head Hotel in Williamstown. The outside scenes of the first Mount Thomas Police Station (10 Thompson St) were filmed at the old, disused Williamstown Police Station, which was then a private residence. Scenes at Mount Thomas High School were filmed at Williamstown High School. Mount Thomas' fictional Commercial Hotel was filmed at the Willy Tavern (55 Nelson Place) in Williamstown. The second Mount Thomas Police Station, adopted during the programme's reform of 2004, as well as the site of Maggie Doyle's iconic death in the railyards, is located at Newport Railway Workshops. The Mount Thomas Hospital is actually Werribee Mercy Hospital and the basalt plains around Werribee were used to represent farming and bush country (Ref 5).
Other Williamstown Filming Locations
Williamstown Livesaving Club as the Pearl Bay Courthouse in ABC's comedy SeaChange, (Ref 6) and in the short film Golden Girl.
Williamstown Sailing Club in movie I Love You Too for shooting a senior citizen's dance (Ref 7).
Gem Pier in the TV mini-series My Brother Jack. A World War II minesweeper was redressed as a WW I troop ship for a 1919 homecoming scene. 170 extras, dressed as soldiers and nurses, made up the greeting crowd. There was a brass band, police on horseback and a couple of military advisors to ensure authenticity (Ref 8).
Williamstown Botanical Garden in ABC's documentary Gardening Australia
Electra Street in science fiction movie Knowing
The Strand in Channel 10's police drama Rush
Filming in Newport
Besides
Where the Wild Things Are
,
Knowing
,
City Homicide
and
Rush
which were also filmed in Williamstown, Newport was featured in at least 3 other films:
Ghost Rider
,
Stiff
and
Romper Stomper
. The
Newport Workshops
were used for filming
Ghost Rider
and
Knowing
. Channel 7 filmed the explosion of an ATM at a vacant shop on the corner of
Elphin and Hall Street
in August 2009 for the third series of its police drama
City Homicide
(Ref
9
).
| | | | | | |
| --- | --- | --- | --- | --- | --- |
| Title (Video/Story) | Genre | Network/ Distributor | Release Date | Creator/ Director | Actors |
| Ghost Rider (s) | Superhero Film | Columbia Pictures | 16/02/2007 | Mark Steven Johnson | Nicolas Cage, Eva Mendes |
| Stiff (v/s) | Telemovie | 7 | 20/06/2004 | John Clarke | David Wenham |
| Romper Stomper (v/s) | Action Drama | Village Roadshow | 14/11/1992 | Geoffrey Wright | Russell Crowe, Daniel Pollock |
Filming in Spotswood
The Spotswood Pumping Station opened in 1897 as a key component of Melbourne's first centralised sewerage system. It was decommissioned in 1965 after the opening of the new station at nearby Brooklyn. The buildings were left largely vacant for the next 25 years but found a new use as a versatile filming location for numerous productions. These included becoming the Main Force Patrol (MFP) "Halls of Justice" headquarters in the Mad Max film, the Blackmoor Prison in the TV series Prisoner and the Balls Moccasin Factory in the film Spotswood. Soon after, the buildings were handed over to Museum Victoria, to become part of Scienceworks (Ref 10). The Spotswood Pumping Station was also filmed in ICQ and Video Underground in 2001.
| | | | | | |
| --- | --- | --- | --- | --- | --- |
| Title (Video/Story) | Genre | Network/ Distributor | Release Date | Creator/ Director | Actors |
| Spotswood (v/s) | Comedy Film | Beyond Films | 23/01/1992 | Mark Joffe | Anthony Hopkins, Ben Mendelsohn, Alwyn Kurts |
| Mad Max (v) | Action Film | Village Roadshow | 12/04/1979 | George Miller | Mel Gibson |
| Prisoner (v/s) | Soap Opera | 10 | 27/02/1979 | Reg Watson | Val Lehman |
| ICQ | Short Film | | 2001 | Greg Mclean | Samuel Johnson, Kate Denborough, Craig Eagle |
| Video Underground | TV Series | Channel 31 | 2001 | Bill Tomaras | Walter Bird, Rose Capp, Tosia Hodgins |
| Charlotte's Web (v/s) | Movie | Paramount Picture, Warner Bros | 7/12/2006 | Gary Winick | Dakota Fanning, Julia Roberts, Oprah Winfrey |
| Harvie Krumpet (v/s) | Clay Animation | Melodrama Pictures | Jun 2003 | Adam Elliot | Geoffrey Rush, Kamahl, John Flaus |
Spotswood is a 1992 Australian comedy film which told the story of the decline of manufacturing in Australia by focusing on the declining fortunes of a footwear factory in the western suburbs of Melbourne. It was released in the US as "The Efficiency Expert". Prisoner (1979-1986) is an Australian TV soap opera set in the Wentworth Detention Centre, a fictional women's prison and was shown on Channel 10. It achieved worldwide cult status after 692 episodes. Mad Max is a 1979 action film which starred the then unknown Mel Gibson. It became a top-grossing Australian film and has been credited for further opening up the global market to Australian New Wave films.
Harvie Krumpet is an Australian clay animation made in Melbourne written, directed and animated by Adam Elliot, which won several awards. The story revolves around the life of Harvek Milos Krumpetzki, born in Poland in 1922. At the outbreak of WWII, he comes to Spotswood in Australia as a refugee, and changes his name to Harvie Krumpet. Despite a life filled with bad luck (such as having Tourette's Syndrome, being struck by lightning and losing a testicle), Harvie remains ever optimistic, living out his own eccentric way of life, marrying a nurse he meets in hospital and raising an adoptive daughter, who is a Thalidomide baby. Throughout his disaster-ridden life, people around him come and go, but Harvie delights in the simple pleasure of life right to the end.
Unknown Filming Locations
The following were filmed in Hobsons Bay but I do not know in what suburbs the filming took place.
| | | | | | |
| --- | --- | --- | --- | --- | --- |
| Title (Video/Story) | Genre | Network/ Distributor | Release Date (Filming Date in HB) | Creator/ Director | Actors |
| The Slap (v) | TV Drama | ABC1 | 6/10/2011  (Apr 11) | Christos Tsiolkas | Various |
| Woodley (v/s) | Comedy Series | ABC1 | (Jan 11) | Frank Woodley | Frank Woodley |
| Small Time Gangster (v) | TV Drama | Movie Extra | 19/04/2011 (Oct-Nov 10) | | Steve Le Marquand , Sacha Horler , Gia Carides |
| Prank Patrol (v) | Comedy-Kids | ABC3 | 4/12/2009 (Jul, Aug, Nov 10) | Active TV | Scotty Twedie and the Ninjas |
| Tangle (v) | TV Drama | Showcase Channel | 1/10/2009 (Sep 08) | Various | Various |
| The Loved Ones (v) | Horror Film | Madman Entertainment | 13/09/2009 (Nov 08) | Sean Byrne | Xavier Samuel, Robin McLeavy, John Brumpton |
| Whatever Happened to That Guy (v) | Comedy Series | Comedy Channel | 25/05/2009 (Sep 08) | Ted Emery | Peter Moon |
| Dirt Game (v) | TV Drama | ABC | 19/04/2009 (Aug 08) | Brendan Maher, Grant Brown | Shane Connor, Gerald Lepkowski, Freya Stafford |
| Triple Zero Heroes (v) | Observational Documentary | 7 | 8/02/2009 (Jan 09) | | |
| My Father Is a Wonderful Man  | Short Film | | (May 09) | Annabelle Johnson | Kristy Barnes-Cullen |
| Bed of Roses (v) | Comedy Series | ABC1 | 10/05/2008 (Jan 2009, Jul 2010) | Jutta Goetze, Elizabeth Coleman | Kerry Armstrong, Julia Blake |
| Satisfaction (v) | TV Drama | Showcase Channel | 5/12/2007 (Jul 08) | Roger Simpson | Kestie Morassi, Madeleine West, Alison Whyte |
| Can We Help? | Lifestyle TV Series | ABC1,2 | 9/06/2006 (Sep 10) | Peter Rowsthorn | Kate Burridge, Christian Horgan |