On a recent Sunday, we decided to wake up early to catch the sunrise at Seaholme. We parked our car at a spot where there is a good view of Melbourne CBD. I thought we were early but there were people already there – someone with a tripod set up as well as a father sitting on the retaining wall overlooking the rocky beach, with a toddler girl on his lap.
Though the sun had not yet popped out of the water, it had already illuminated the sky considerably. As I gazed towards the east in the direction of the city, something caught my attention.
A spherical vesicle-like object emerged from behind the city skyscrapers, detached from the horizon and launched itself into the sky. Immediately after the first vesicle, the second surfaced and too propelled itself into the sky. This was followed in rapid succession by the third, the fourth and finally the fifth vesicle.
While we were enchanted by this scene, a pair of swans graced the placid waters of Port Phillip Bay, completely unflustered by this peculiarity.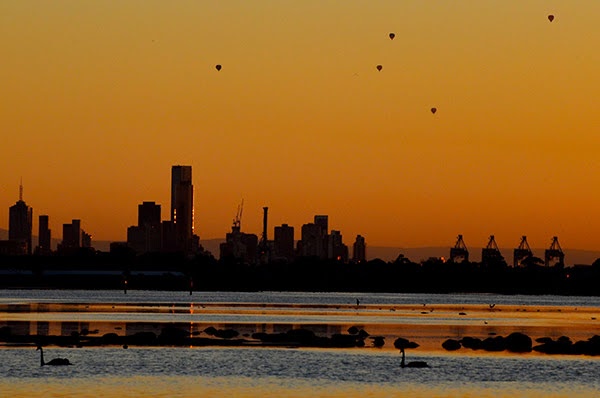 My memories flashed back to December 2015 when we returned from a memorable trip to Tasmania. As the Spirit of Tasmania pulled into Port Melbourne at about 6 A.M. and we were preparing to disembark, we were greeted by the sight of hot air balloons rising high above the city skyscrapers.
Before that, I am not aware that Melbourne has this specialty tourism experience. I don't think many cosmospolitan cities would permit this type of activity as this would require considerable technical expertise to navigate the balloons above a densely-populated urban area.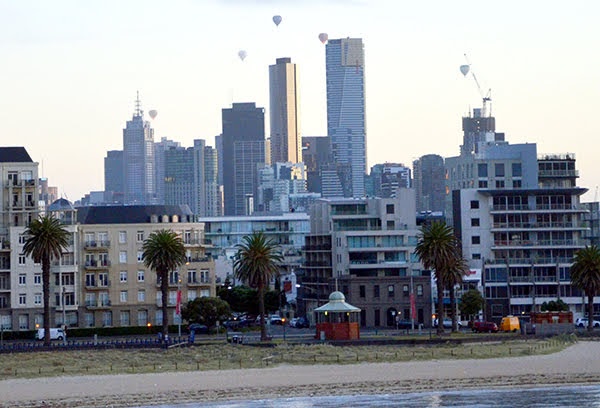 As I watched the balloons intently, I imagined myself swapping role one day – standing inside the gondola of a hot air balloon and waving to someone taking photographs from the beautiful coast of Altona far beneath …..