A benefit of living in Altona is its location by the sea. It only takes two minutes to reach the beach from our home by car. This means we can just take a spin along the Esplanade whenever we fancy it. Have we lived somewhere further inland, we may consider twice whether it is worth the effort just to take a look or whether we should set out earlier and spend at least an hour or two at Altona Beach.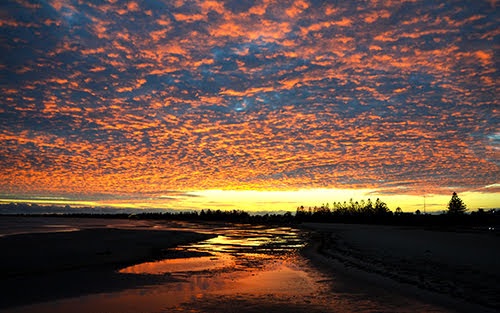 My wife read that it may be possible to see Aurora Australis (the southern lights) tonight. Hence, we decided to try our luck and at the same time, to replenish our stock of bread and milk at the Coles supermarket on Pier Street.
With absolutely no clue of where, when and how to see Aurora Australis, we did not manage to catch any glimpse of what we have set out for. However, we were rewarded with the sight of a spectacular sunset. Stretching from my eyes to the horizon where the sun had set was a blanket of thick crimson clouds, so dense that it was puntuated by blue skies at only a few spots. The sun before retiring for the day had cast its last rays and lit up the dusk sky like burning flames which would soon be extinguished with descent of darkness.
The winds were icy-cold. No wonder there were hardly any people on the beach. Without further ado, we quickly made our way back to the car, fully contented with these new additions to our photo collections, which are way more concrete than the illusive southern lights.