The Melbourne CBD is visible from Altona and Seaholme and appears within a stone's throw. Have you ever fantasized a shortcut path that will greatly reduce the commuting time to the City? This is not an impossible dream if Melbourne Metro 2 is realized.
Melbourne Metro 1
By now, most of you would have known about the construction of the Melbourne Metro 1. This is a cross-city rail tunnel that will connect the Pakenham/Cranbourne line in the south-east to the Sunbury line in the north-west. It runs from South Yarra to South Kensington and comprises 5 new underground stations. This project was originally proposed by Public Transport Victoria in 2013 as a 2-stage construction (Stage 1 and 2) under the Network Development Plan for Metropolitan Rail (NDPMR). The construction is now combined into a single stage, with completion expected in 2025.
Melbourne Metro 2
Stage 3 of the NDPMR envisages another cross-city tunnel connecting the South Morang/Mernda line to Southern Cross with possible stops at Clifton Hill, Fitzroy, Parkville and Flagstaff. Under Stage 4, the tunnel will be further extended to a new station at Fishermans Bend with possible stops at Montague and the NEIC (National Employment and Innovation Cluster). It then goes under the Yarra River to Newport to connect with the Werribee line. The NDPMR suggested the tunnel, terminating in Fishermans Bend, would carry 15 trains an hour in peak times. No service plan has been publicly released for the longer tunnel to Newport.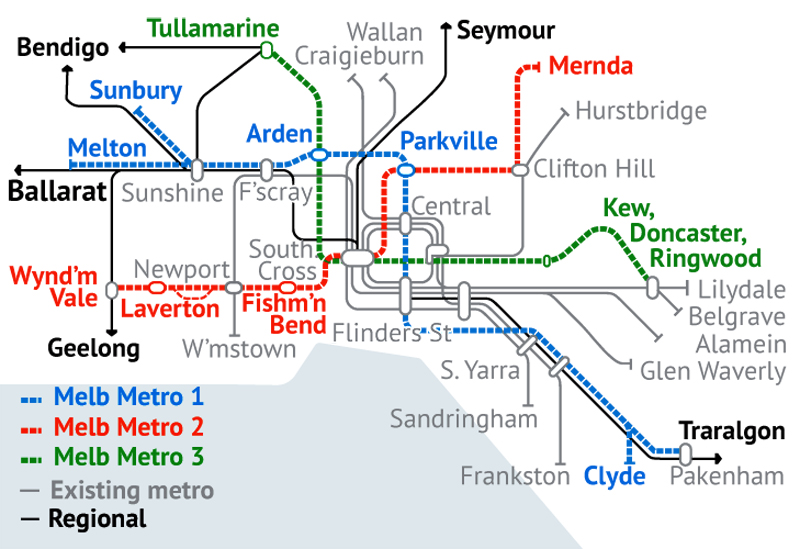 Source: The Age
In 2015, the Herald Sun started using the term Melbourne Metro 2 to refer to the second tunnel. The state government was broadly supportive of the need for a second major rail project. It had confirmed that the new Parkville station would be designed with provision for a future interchange between Melbourne Metro 1 and 2. In October 2016, Infrastructure Victoria released a 30-year Infrastructure Strategy Plan that suggested Stage 3 and 4 from Clifton Hill to Newport needed to be constructed simultaneously. This project would incur enormous costs not recoverable by the benefits. However, there is the potential to partially fund the project through a 30-year value capture "betterment levy" imposed on landowners in the Werribee corridor who would benefit from an estimated $20 billion appreciation to their property values (Ref).
In a report released in early 2018, Melbourne City Council said that Melbourne Metro 1 will be operating at full capacity by the time it becomes operational. It wanted another two rail tunnels to be built by 2035 to cope with an extra 116,000 people (almost double the current patronage) taking trains into the city in the morning peak by 2031. It proposed building Melbourne Metro 2 by 2030 and Melbourne Metro 3 (a second airport rail line to Southern Cross via Arden, Macaulay and Maribyrnong) by 2035.
Benefits of Metro 2
South Morang/Mernda line would be separated from the Hurstbridge line, boosting capacity on both, making possible a branch to Epping North/Wollert and allowing the Doncaster line to be built.
Increases frequency of Werribee services by separating the Werribee Line from the Williamstown and Altona/Laverton lines.
Passengers from Melbourne's south-west can get to the city faster through the new direct route by bypassing the inner west (from Spotswood to North Melbourne).
Uses longer trains like Melbourne Metro 1, which can carry more passengers and hence, boost train capacity. For example, Werribee's passenger capacity will be quadrupled.
Increases public transport access from outer suburbs to the city centre by an enormous 20%.
Reduces inner city road congestion by 1.1%.
Helps with the movement of freight around Melbourne by reducing demand on the roads.
Creates thousands of local jobs (Melbourne Metro 1 generates about 7000 jobs).
Equipment and expertise in building Melbourne Metro 1 can be extended to Melbourne Metro 2, making both projects more cost-effective and creating longer-lasting jobs.
Comparison of Transport Projects
The engineering consultant Arup, commissioned by Infrastructure Victoria, found that Melbourne Metro 2 would do more to address Melbourne's transport woes than any new roads such as the North East link and East West Link being promoted by the major parties ahead of the November state election. Arup's analysis suggested that Melbourne Metro 2 would have a transformative impact on road congestion but unlikely to ever produce a positive cost-benefit ratio based on conventional analysis, returning just 40-50 cents for every dollar spent.
| Transport Project | Building Cost |
| --- | --- |
| Entire Melbourne Metro 2 | $20.3 billion |
| Melbourne Metro 2 link between Newport and Parkville | $8.4-12.7 billion |
| Doncaster Line | $2.6-3.9 billion |
| Westgate Tunnel | $6.8 billion |
| North East Link | $16.5 billion |
| East West Link | $15 billion |
Melbourne University's John Stone and RMIT's Ian Woodcock, commissioned by Melbourne City Council to research its transport options, urged treating Melbourne Metro 2 as a major priority. They said Melbourne Metro 2 could be operational by 2028 or earlier if planning on this project were to start this year. I agree with Daniel Bowen that major works (including excavation) preferably commence on Melbourne Metro 2 before Melbourne Metro 1 is completed. This would allow expertise and equipment to roll off one project onto the next (Ref).
Newport Interchange
I believe under the new plan, Newport will be transformed into a major interchange to connect Melbourne Metro 2/Werribee Line with the Laverton/Williamstown lines. To travel to the city, Altona passengers can take the train like what they currently do. Alternatively, they can change at Newport for the Melbourne Metro 2 train. This will be a faster option if they need to go to Fishermans Bend. I am not sure which option will be better for commuting to other city destinations.
There is a website called GetOnBoard where you can sign up to its lobbying plan for better public transport.

Reference