Trams are an iconic feature of Melbourne's landscape, constituting an integral part of its public transport network and the largest urban tram network in the world.
As trams age and fail to meet modern safety and accessibility requirements, they are taken out of operation. 237 decommissioned trams are now stored in Newport Railway Workshops in varying states of repair, of which many are gathering dust and slowly deteriorating.
On 24 October 2016, the Minister for Public Transport, Jacinta Allan, announced the formation of a Stakeholder Reference Group (SRG) to develop a strategy to take retired trams out of storage and give them a new lease of life. The SRG comprises of expertise in transport, heritage, arts, tourism and local government, and is chaired by VicTrack. A comprehensive audit of the trams' condition was commissioned by Public Transport Victoria in April 2017 and finalized for the SRG in October 2017.
On 14 May 2018, the State Government announced that 134 out of the 237 retired trams will be offered to the public under the Retired Trams Strategy. Schools, museums, community groups, not-for-profit organisations and other public institutions from Victoria are eligible to get a tram for free. Private, commercial and interstate applicants need to pay a flat fee of $1000 for a tram.
An expression of interest (EOI) process, asking applicants to explain how they would restore, repurpose and maintain these trams, will open next Monday 28 May 2018 and close on 6 July 2018. An independent panel will assess these applications, prioritising those proposals which make the tram accessible to the public and which provide demonstrable community benefits.
VicTracks has obtained quotations to inform prospective applicants of indicative costs for various types of professional work on the trams. However, there is no requirement for successful applicants to engage a specialist to professionally restore or repurpose the tram.
Type of Cost for:
Indicative Cost
Transporting tram
$2000 - $10,000 for commercial/private applicants
VicTrack will cover transport costs for Victorian community groups
Asbestos removal
$500-$800 (to remove controller)
$1600-$8000 (to remove flooring)
Restoring internal fittings
$35,000 – $80,000
Repurposing tram as a shelter
$20,000 – $80,000
Repurposing tram as a dry bar
$80,000 – $100,000
Repurposing tram as a café
$80,000 – $280,000
Restoring tram to original, fully operational condition
$588,000 – $650,000
The SRG suggests the following possible uses of repurposed trams:
Static shelter, classroom, café or workshop at a fixed location.
Relocatable pop up attraction or information booth.
Incorporation of parts of a tram into a building foyer, wall of a retail premise or home, as part of a themed café, etc.
This is not the first time old trams are being restored or repurposed. They have been put to good uses before. The City Circle Tram and the Colonial Tramcar Restaurant are two examples that come immediately to the mind of many Melburnians.
City Circle Tram
The City Circle tram was introduced on 29 April 1994 to provide tourists with a free and convenient way to get around central Melbourne. This No. 35 route is operated by 12 refurbished heritage W-class trams which run on the outer edges of the Hoddle Grid.
Of the 237 audited retired trams, 17 are of operational condition and are to be used on the City Circle or for the Colonial Tramcar Restaurant. However it is an expensive exercise to restore the trams, costing about $2 million to upgrade each retired tram to the standard required for operation on the City Circle network.
Colonial Tramcar Restaurant
The Colonial Tramcar Restaurant operates from a fleet of 3 converted W-class trams. The first converted tram is a 1927 W2-class tram decommissioned after 55 years of service. In 1982, it was converted at Preston Workshops into a mobile restaurant, with a centrally-located kitchen and washroom shared between a 12-seat saloon and a 24-seat saloon. The drop centre floor was elevated to give a uniformally-levelled floor throughout the tram and a single entrance was provided on one side of the tram. The tram restaurant began operating on 2 November 1982.
Prepared raw food is loaded onto the tram from an offsite commercial kitchen and freshly cooked by a chef as the tram is moving. The tram restaurant departs from and returns to Tram Stop No. 125 near the intersection of Normanby Road and Clarendon Street in South Melbourne. Each tram serves 1 lunch and 2 dinners daily.
Melbourne Tram Museum
The Melbourne Tram Museum was established by VicTrack in 2003 to preserve and share the rich tramway history of Melbourne.
It houses 21 fully-restored trams including:
a 1906 "toast-rack" bodied V-class tram, which is one of the first electric trams in Melbourne.
several versions of the iconic Melbourne W-class trams.
prototype of the Z-class tram first introduced in 1975.
experimental X-class tram designed for lightly-patronised routes.
The museum is open on the second and fourth Saturday of every month at the Hawthorn Tram Depot, located at the junction of Power Street and Wallen Road, Hawthorn.
Bendigo Tramways
Trams have operated in Bendigo as a commuter service from June 1890 until April 1972, then restarted as a tourist tramway in September 1972. Not only does Bendigo Tramways have the oldest operating tram depot, it is also the largest tourist tramway in Australia.

Photo: Wikicommons
Bendigo Tramways has 45 restored trams, 13 of which run the daily vintage "Talking Tram" tours through the historic streets of Bendigo. It receives over 40,000 visitors annually and has attracted dignitaries such as Prince Charles, who took Bendigo Birney Tram No. 30 on his visit to Bendigo in 1974.
Learning Tram at Fitzroy High School
A W-class tram was repurposed into a classroom through the "Hands On Learning" charity program and used at Fitzroy High School to keep disenfranchised 13 to 16-year old students engaged in school.
Fitted with a kitchen and other facilities, the converted tram provides a creative space where students learn how to cook, knit and work with clay. Penelope Stray, "Hands on Learning" leader of Fitzroy High School, said the confines of a conventional pen and paper classroom do not work for students from troubled backgrounds. Instead of sitting in a classroom and listening to the teacher all the time, students are engaged in hands-on activities such as food preparation and tool making, which makes learning more interesting and enjoyable to them.
Wattle Park Tram Shelters
When the Hawthorn Tramways Trust planned to build a new tramline through largely open paddocks in 1915, it decided to purchase 137 acres of land at the terminus to set up a public park for generating weekend and public holiday traffic. The Governor of Victoria, Sir Arthur Stanley opened this park on 31 March 1917, planted a Golden Wattle and called it Wattle Park.
A key feature of Wattle Park was the use of tram bodies as shelters in the picnic ground. Scrapped cable tram bodies were initially used but these wooden bodies deteriorated in the open and were later replaced by retired W2-class tram bodies.
Muckleford Tram House
The property at 10 A Frame Track, Muckleford, 10 minutes drive west of Castlemaine, is not an ordinary 3-bedroom house. It is erected around a W-class tram, built in the 1920s.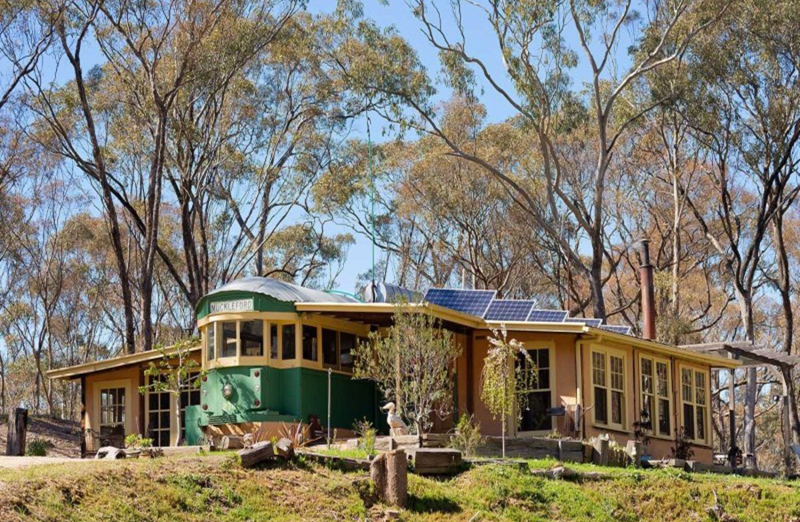 Photos: Cantwell Property
The owner Gary Markoff paid about $1000 for the retired tram and hauled it to the country 35 years ago. He was young, had no money and needed a place to live in. He originally planned to camp out in the tram while he built a more traditional house. But the tram had become a labour of love that grew as his family expanded.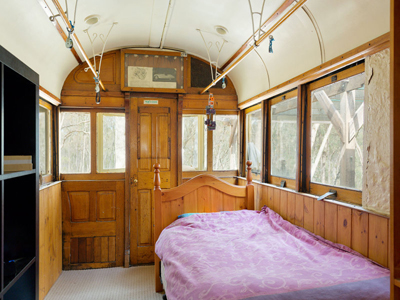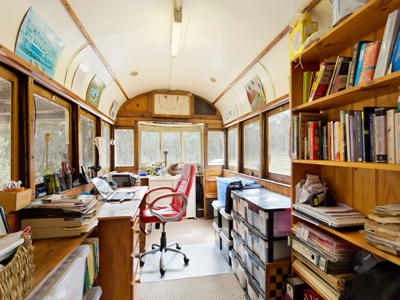 One of the bedrooms still closely resembles a tram carriage, with rich timber panelling and a hand rail suspended from the ceiling. An office was converted from the front carriage, where the driver's compartment was removed to make a bay window. Additional rooms were built on either side of the tram body to accommodate the arrival of the owner's two eldest children.
I believe the property is still for sale and you can view the property listing here.
Verona Sands Tram House
In 1957, Laurie Seeber and his brother-in-law owned a land lot overlooking Pickup Beach at 10 Westwood Avenue, Verona Sands, an hour drive south of Hobart. They bought two disused trams and transported them to the property.
Photo: Realestate.com.au
In 1982, they employed a draftsman to draw up plans to transform the trams into a house. The two trams were lifted above the ground to form the upper level of the house. One tram became a kitchen while the other became a bedroom. The trams on top provide sweeping, uninterrupted views of the water.
Laurie and his wife resided in this house between 2012 and 2017. This house is now for sale and you can view the listing here.
Tram Bar
In 2011, a retired W-class tram SW6.969 was refurbished into a bar and parked in front of the Arts Centre spire where it drew crowds of tourists queuing up for a drink or selfie. It was removed several times before being taken away for good in January 2015.
This tram has now found a new home at Vintage Garage in Preston, where it is at the heart of a planned mini arts and food precinct, featuring vintage shopping, live music and world-class chefs. Vintage Garage co-founder Marisa Gallagher said the tram can serve as a pop-up restaurant, a daytime cafe, an art gallery and even a wedding space. She hopes the tram will pull in crowds like what it did at its previous stint at the Arts Centre.
Chandon S Chic Easy Roving Tram Bar
Chandon S Chic Easy is a pop up bar repurposed from a Melbourne W-class tram by Bendigo Tramways for the wine brand Chandon S.
Unlike the tram at Vintage Garage which functions as a parked serving booth, Chic Easy is a roving tram where guests get to sit inside the tram.
Chic Easy is touring Melbourne, Sydney, Gold Coast and Perth, where guests can book tickets for a 1.5 hours journey that offers cocktails, food and hands-on workshops. The workshops include:
A traditional French boulangerie workshop, where guests learn to craft their own Artisan bread.
A cocktail making masterclass, where guests learn how to make the Perfect Serve for enjoying Chandon S over ice and the Chic Serve, a new cocktail created specially for this tram.
Sydney Tramsheds
The former Rozelle Tram Depot at Glebe was part of the Sydney tram network, once the largest in the southern hemisphere until Sydney ceased its tram operation in 1961. The site laid dormant for decades and was a derelict haunt for trespassers and graffiti artists, before being purchased by the developer Mirvac in 2010.
After acquiring the site, Mirvac discovered 6 trams owned by the City of Sydney. All were badly vandalized and covered in graffiti. Five trams had since found new owners. The sixth tram, Tram R1 1995, is one of Sydney's most historic trams, being the last of its kind built in Sydney before the tram service was made redundant by commuters' preference for roads and buses.
In January 2015, Tram R1 1995 was transported to the Bendigo Heritage Rail Workshop for restoration. It now sits inside the restored Tramsheds Harold Park, an unique food destination housing providores, that opened on 22 September 2016.
Milan Sauna Tram
QC Termemilano is a picturesque spa and wellness centre overlooking ancient Roman aqueducts in Milan, Italy. An orange 1928 Carelli tram sits in the middle of this spa complex on the dead-end branch of an old railway track. It has been converted into a Sauna Tram, the only bio-sauna in the world housed within a tram. It retains the tramcar's original features including its trademark pitched roof and open windows. But the interiors now have more teak and are installed with benches and hot coals. The sauna tram is quite large, with capacity for 10 people at a time.
Public transport rides during peak hours is a great stress for many commuters in Milan. The designers hope that opening a relaxing sauna in a tramcar will prove to commuters that taking public transport need not always be stressful. In addition to the sauna, watching a documentary about the history of trams is offered as an unusual activity to help sauna patrons relax.
Dublin Tram Café
In the Wolfe Tone Square of Dublin, Ireland, sits the Tram Café, housed in a beautiful dark-green 1902 tram. Built in Philadelphia, this tram spent most of its time in Lisbon, followed by a museum in Colwyn Bay, Wales before being sold. Somehow it ended up discarded in a field in Mullah, Cavan. In 2013, it was spotted by a man called Dave. He partnered with a builder John to transform this old, worn tram into a retro style café, providing good food, nostalgic 1920s music and laughter.
Photo: Wikicommons
It took Dave and John almost three years to restore the tram and find it a home. They tendered to Dublin City Council to locate the tram in this historic part of the City Centre. Due to the location's sensitivity as a former graveyard, archeologists were employed during the installation of services. The tram itself was completely refurbished offsite and lifted into its current position. The Tram Café was opened for business on 25 April 2016.

Melbourne Art Trams
Among the 237 audited trams, there are 20 Art Trams that are not part of the EOI. They feature livery commissioned by renowned artists from the 1980s, including Michael Leunig and David Larwill.
Photos: Melbourne Festival
Melbourne Art Trams is a creative partnership between Melbourne Festival, Creative Victoria and Public Transport Victoria, in collaboration with Yarra Trams. It is a revival of the Transporting Art project that ran between 1987 and 1993.
Conclusion
Will you like to have a restored tram in your municipality? Do you have any suggestions and new ideas of how to reuse these old trams? Feel free to share your thoughts and comments in this post.
Reference