When former PM Julia Gillard's political career came to an abrupt end, she decided to move to Adelaide to be close to her mother and sister, and to begin the next chapter of her life. Hence she put up for sale her Altona home she bought in 1998 for $140,000. On a 603 square-metre block sits this single-storey post-war brick house with three bedrooms, two bathrooms and two living areas. An extension was added in 2008, leading to a decked area in the backyard.
Ms Gillard had this to say about Altona and her home: "I bought my home in Altona because I loved the seaside village feel of Pier Street and the Esplanade, The house itself has been lovingly cared for by the first owner. Like Altona itself, our home has been renewed and modernised over the last 15 years. Nine Medford Street has been a happy place for Tim and I, full of light and often full of laughter."
Ms Gillard interviewed several real agent agents and eventually chose Anna Grech from Jas Stephens to sell her home. Ms Grech says: "She made me feel very special, very at ease. She gave me the guided tour through the home. She gave me her time and she was very very respectful. Ms Gillard's favourite rooms were the kitchen and rear living room." Ms Grech explained the difficulty of valuing this property: "It's a bit of an icon and it's been a novelty for the area. How do you price a house that's owned by the ex prime minister? We just don't know."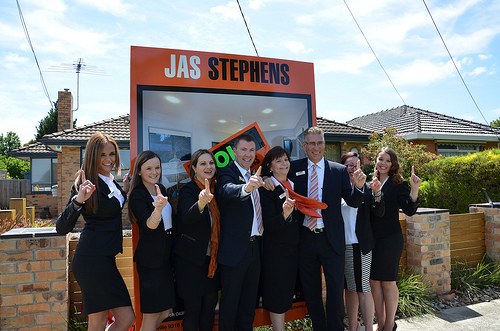 The listing on realestate.com.au had caused a sensation, receiving 30,000 hits online (more than five times the usual for an advertised property), with droves of visitors taking a virtual peek through the former PM's home and dozens of sticky beaks poking around her property when it opened for inspections.
There were widespread speculations in Altona and in the media of how much this property would fetch, given its celebrity status. Altona's median house price at that time was about $560,000. Craig Stephens, the managing director of Jas Stephens Real Estate revealed that the asking price for this house is at least $600,000. He said : "Take the Gillard factor out and the property is probably worth $600,000-$650,000."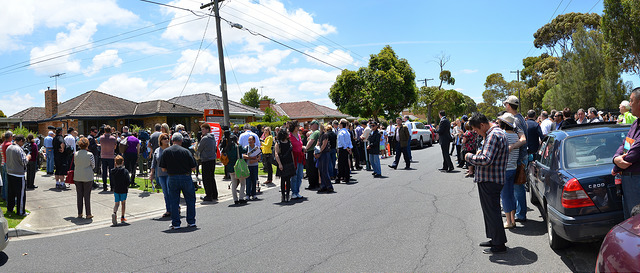 The auction on Saturday 14 December 2013 attracted a crowd of more than 300 people. The auction was scheduled to start at 2 p.m. but spectators were already streaming in at 12.45 p.m. This usually very quiet street has never seen so many visitors in its history and was lined with cars from one end to the other. This is probably the most watched and reported auction in Melbourne, with all the major newspapers and TV stations turning out in full force with their camera crews to capture a slice of real estate history.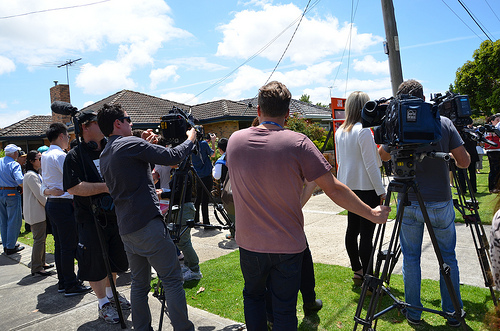 At 2 p.m. sharp, the auctioneer Terry Fitzpatrick walked up and down the street, ringing his bell, beckoning people to gather in front of the house.
"If you've just arrived from another planet, welcome to the centre of the universe. A home fit for a queen, a king or, dare I say it, a former prime minister," he said, before informing onlookers and serious buyers alike that the vendor was flexible on the settlement date.
For those who hope to catch a glimpse of the former Prime Minister, they would be disappointed. Ms Gillard was in Adelaide, keeping track of the auction through her mobile phone.
After an opening bid of $500,000 from a heavily tattooed man in track pants and gold hoop earrings, the bids quickly escalated to $600,000. At $680,000, the auctioneer went inside the house to seek instructions from his client. When he returned, he informed the crowd the property was officially on the market. After 30 minutes of about 50 biddings, four bidders slugged it out to push the sale price to a record $921,000 more than $250,000 above its expected price.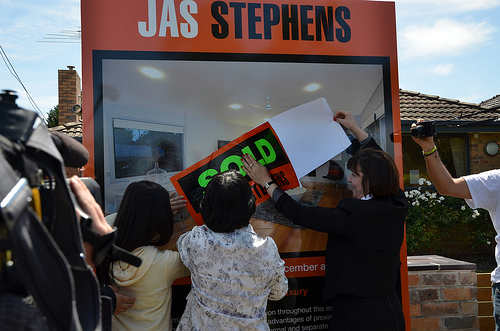 The successful bidder Jian Wang and her 12-year old daughter Charlotte
The successful bidders are 60-year old Mr Zheng Liang Wang, the owner of Benford Finance & Conveyancing, and his 55-year old wife Jian Wang. The following information are obtained from online sources.
With money borrowed from more than 10 friends, Mr Wang came to Australia from the Zhejiang province of China in January 1989 to pursue a course of study. He was 35 years old that year. His first job in Australia was doing physically demanding labour in an automobile spare parts factory. At that time, his 30-year old wife had already built a successful career in Shanghai. For the sake of love and family reunion, Mrs Wang gave up her burgeoning career in China and moved to Australia in 1992 with their then 5-year old daughter Stephanie. Mrs Wang experienced considerable difficult adjusting to life in Australia due to the language barrier and the lack of friends, and had thought of returning to China. As a career woman herself, she greatly admires Ms Gillard, is her loyal fan and had voluntarily helped to canvass votes for her during the 2010 Federal Election. In fact, Mr and Mrs Wang had a photo taken with Ms Gillard when she met them on her first visit to China as Australia's Deputy PM.
The significance of the auction also relates to Mr Wang's elder daughter, Stephanie. With an almost perfect score in the 2003 International Baccalaureate examination, she was the youngest ever female IB laureate. She went on to receive a 5-year scholarship from the University of Melbourne to study a double degree in Law and Finance. In 2011-2012, she became a Policy Officer at the Department of Premier and Cabinet in Victoria, focusing on engagement with China and Asia. At that time, she was due to be hired by the Gillard's Prime Minister Office, having passed the security clearance. But she decided to give up this opportunity in order to help her father in his flourishing loan business.
It is Jian Wang's dream to own this one and only house with great historical and sentimental values to her. Mr Wang is thus determined to buy this house for her as a gift for the sacrifices she had made. He was prepared to bid up to $1.2 million, having inspected the property three times. They were thrilled with the auction outcome, and the contract would be signed in Mrs Wang's name so that "it's passing from woman to woman."
Wary of media publicity of Chinese investments driving up Australian property prices and pricing out locals, Mr. Wang declined interviews from the local media. Craig Stephens, managing director of Jas Stephens Real Estate told 3AW Radio: "As she was signing the contract in the kitchen, she wanted to make it known to Julia that she was taking out an Australian citizenship. She was very emotional signing the contract and actually invited Tim and Julia back for a barbecue after the 90-day settlement ticks over."
The barbecue has yet to materialize. The property was settled on 13 March 2014. It was reported that the family will move into the property after the settlement. This did not happen and the family still stays in Camberwell. Instead, Mr. Wang is using this house as a meeting venue for the Chinese Zhejiang Uniting Association of Australia, for which he is the President.
Mrs Wang named this house as the house of fortune. Interest in this house extended beyond the auction – someone had requested to take up shares in this house but was declined. Recently the Zhejiang provincial TV station, a prime TV station in China, came to film this house.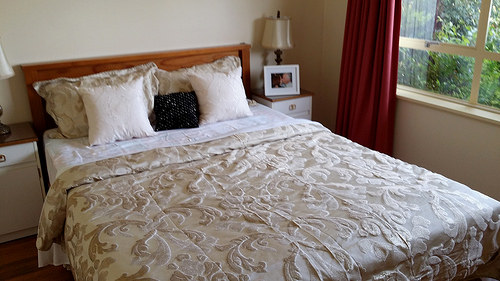 Mr. Wang reassured Ms Gillard he would retain the original look of the house. He kept his words for he had engaged the original interior designer of the house to create replicas of the original furniture. Ms Gillard's original bed was taken out from the garage and put in the front bedroom. Placed on the bedside drawer is a photo of Ms Gillard with her beloved late father, John Gillard. The study, which is located in the middle room, functioned as Ms Gillard's office out of Canberra at a time when she declared she would not move into the Lodge until elected by the people. It aptly features a photo of Ms Gillard with US President Barack Obama when she met him at the White House in March 2011.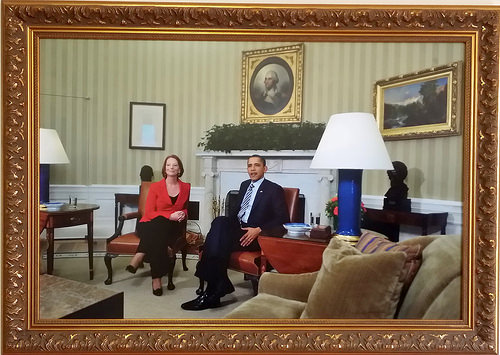 A photo of Julia Gillard posing in an armchair knitting a toy kangaroo for Prince George, which was published in the July 2003 issue of The Australian Women Weekly magazine, adorns the master bedroom.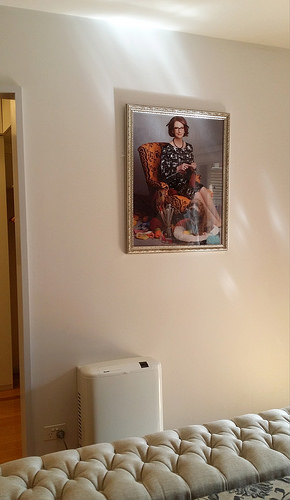 The photo of Julia Gillard with her infamous empty fruit bowl and a suitcase fresh from an overseas trip is of course hanged on the kitchen's wall. Mr. Wang called the second lounge the "kitchen cabinet" for this is the location where a lot of Australian policies had been discussed and formulated. This is now the place where Mr. Wang holds periodic meetings for the Zhejiang-Australia association.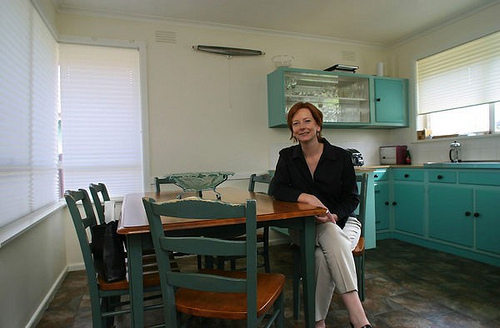 Mr. Wang would often invite people to the house, where he would conduct guided tours of each room, and recount stories of Julia Gillard and her turbulent period in the history of Australian politics. All the guests are very excited to listen to these tales and would eagerly grasp every opportunity to take photos of this historic place. Someone had jested that Mr. Wang should open this place as a museum and start charging admission fees.
What surprised visitors, particularly those from overseas, is the humble and modest state of this house, which they would not imagine being associated with the abode of a Prime Minister. A visiting deputy secretary of a Chinese provincial government remarked that this house would serve as a good demonstration exhibit and guiding example for developing an open, honest and non-corrupt China.