When you drive from Altona towards the Princes Freeway on Millers Road, past the flyover above the Geelong-Melbourne railway tracks, you will not miss Bunnings Warehouse at 290-298 Millers Road, Altona North on the left.
Bunnings has now relocated not far away to a $47 million, 17,000-square metres site (double the size of its old premise) in a new $30 million retail centre at the corner of Millers Road and Ross Road. The new Altona Bunnings opened officially on Friday 3/10/2014 with a big bang, featuring children activities and a spectacular fireworks display.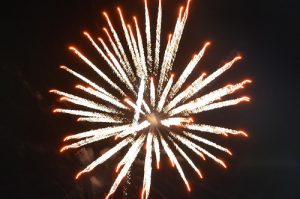 This retail centre is located at 302-330 Millers Road, 13.2 km from the Melbourne CBD and 2.5 km from the Westgate Freeway and Western Ring Road. Ir was previously occupied by Cabots Australasia (formerly Carbon Black), which produced carbon blacks – a chemical agent used in a variety of manufacturing products.
The ASX-listed property investment manager and developer Folkestone acquired this 13.9 hectare parcel of land in December 2007. In early 2012, Taylors Development Strategists lodged an application to Hobsons Bay City Council on behalf of Folkestone to subdivide the land into 2 lots (S3 and S4) and a road. Lot S3 has an area of 8.569 hectares, lot S4 has an area of 4.396 hectares and the road named Cabot Drive 0.884 hectares, giving the site an overall area of approximately 13.849 hectares. The application also proposes to rezone the land from Industrial 3 Zone (IN3Z) to Business 3 Zone (B3Z), which allows for bulky goods retail and offices.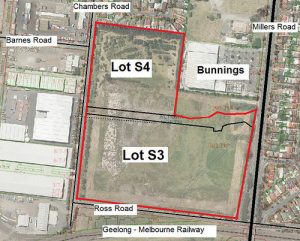 Stage 1
In November 2013, Folkestone announced the commencement of Stage 1 of the Millers Road development. This comprises a $30 million, 21,639 square metres large format retail centre consisting of a relocated Bunnings, Officeworks, JB Hi Fi, Repco, PETstock, petVET and a small café. Constructed by FDC Construction and Fitout, the Stage 1 development was completed in October 2014.
Folkestone sold 8063 square metres of land to Aldi for building a 1600 square metre supermarket adjoining the Stage 1 development and directly fronting Millers Road. This is made possible as a result of Victorian planning reforms introduced last July that amalgamated the former Business 1, 2 and 3 Zones into a Commercial 1 Zone and the old Business 3 and 4 Zones into a Commercial 2 Zone. Under the new regulations, food retailers can set up in bulky goods precincts and industrial areas that were previously off limits, provided their stores are under 1800 square metres and near major roads. The land is now being prepared for the construction and the Aldi store is expected to open next year.
Stage 2
Folkestone entered a 50/50 joint venture with Wilmac Properties to develop about 60 strata style office/warehouse mews, with an anticipated end value of around $30 million. Wilmac Properties will manage delivery of Stage 2 on behalf of the joint venture.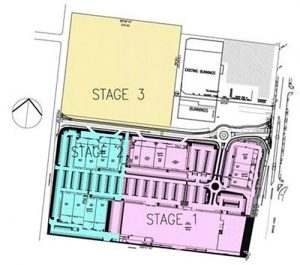 Stage 3
The residual 4.4-hectare parcel north of Cabots Drive constitutes Stage 3, whose dollar worth is yet to be determined. Folkestone is developing its masterplan for Stage 3, which will have a mix of uses.
Old Bunnings Site
Bunnings property general manager Andrew Marks said options were being evaluated for the old Altona warehouse. There are rumours on social media that Costco may take over this site. I think these rumours may not be unsubstantiated. Just as the change in planning laws benefits Aldi, it also opens the possibility of another supermarket operating in a previous bulk good location. The arrangement and presentation of Costco goods in a warehouse layout means that it could make use of the existing warehouse, modifying it instead of rebuilding it. Furthermore, Costco is expanding aggressively in Australia, with 2 stores operating in Docklands (opened 2009) and Ringwood (Nov 2013) and another 2 stores opening in Jovic Rd, Epping and Moorabbin Airport.