One day when I was walking around Cherry Lake, I discovered a mud footpath up a mound north of Cherry Lake, where the summit commands a bird-eyed view of the lake. You will also be able to see the Cherry Sedgeland, which is otherwise not visible at ground level from the Cherry Trail.
I was not alone at the summit. There were already other people around. A car appeared from nowhere, made a U-turn and drove away in the direction where it came from. I went to ask a man how the car managed to get up this mound and he told me it is via Kororoit Creek Road. It was very late so I decided to be adventurous on another day.
A few weeks passed by and I had not forgotten the desire to satisfy my curiosity. The day came when I finally made the trip. From Kororoit Creek Road (in the direction towards Laverton), I turned my car left into Augusta Boulevard which continues into Drake Boulevard and Aylesbury Drive, as shown in the map below.

View The Road Less Travelled in Altona in a larger map
From the bitumen road, the car entered grassland before it followed a mud path up the mound. This path is wide enough only for a single car to pass through.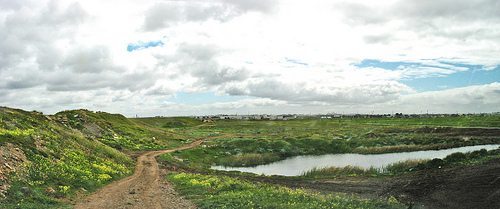 Along the way, you can see a pond, which I name it the "Oasis" due to the surrounding scrubby terrain. In an earlier post, I had called this region the "Northern Territory of Altona" as it is located in the northern part and it also has a rocky formation that bears uncanny resemblance to the Ayers Rock in the Northern Territory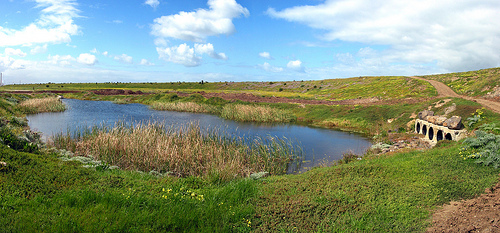 There is a separate footpath at a higher elevation, where you can see some huge rocks. I recalled a newspapers article published in The Age that says Julia Gillard has put Altona on the world map, just like what Bill Clinton did to Little Rock, his hometown in Arkansas. I will hence call these rocks "The Little Rock of Australia". They are in fact no less impressive than "La Petite Roche" that gives Little Rock of Arkansas, its name.

Finally, the car reached the highest part of the mound where you can take in panoramic views of the Cherry Creek, the Cherry Sedgeland and of course, the Cherry Lake.

On the descent journey, drive your car slowly for you will never know whether there will be another car heading up the mound on this narrow path.