Warrnambool is the largest city on the southwestern coast of Victoria, 263 km (3 hours drive) from Melbourne. Warrnambool took its name from the indigenous Kuurn Kopan Noot word which roughly translates to "water between two rivers", "two swamps" or "ample water". The seasonal whalers of the 1830s were the first Europeans to use the bay, which they named Lady Bay in 1844. Ongoing white settlement began in the early 1840s. The town was surveyed in 1846 and established soon after. Warrnambool became a municipality in 1855, a borough in 1863, a town in 1883 and a city in 1918. As of June 2010, it has a a population of almost 34,000 people.
Flagstaff Hill Maritime Village
When Warrnambool's lighthouse precinct at Flagstall Hill fell into disrepair, it was first mooted in 1974 to restore the site into a maritime museum.

Opened in 1975, this multiple award-winning recreation of a late 19th century sea port features the following:
2 lighthouses. The 1859 Upper Lighthouse was moved from Middle Island in 1871-72 while the Lower Lighthouse, originally erected on Lady Bay Beach in 1859, was dismantled and its light placed atop an obelisk at Flagstaff Hill in 1871.
Lighthouse keepers' cottage housing the Shipwreck Museum and Chart Room.
Fortifications built in 1887 to defend against a feared Russian attack.
Maritime artefacts and relics from some 180 shipwrecks which occurred along the southwestern Victorian coastline from 1850s to 1920s.
40 other authentic buildings, each portraying an important aspect of 19th century port life, constructed over 30 years ago.
The original flagstaff placed on the hill in 1654 as a navigational aid, which gave the hill its name.
A whaleboat and a theatrette (at the entrance) which plays interesting films and documentaries (some dating back to the 1920s) with maritime themes free of charge all day.
An elaborate local tapestry depicting historic themes.
The Schomberg Diamond found in the moulded top of an encrusted lid hauled from the site of the 1855 Schomberg shipwreck in 1975.
The 3D "Shipwrecked" Sound and Laser Show, held nightly from dusk, tells the story of the sinking of the Loch Ard and the miraculous survival of teenagers Eva Carmichael and Tom Pearce.

We did not visit the Flagstaff Hill Maritime Village as this would take 3-4 hours.
Warrnambool Breakwater
The Port of Warrnambool was a thriving deep sea port In the 1880s, handling more cargo than the Port of Melbourne. Construction of a breakwater to protect the harbour commenced in 1876. Huge concrete blocks, each weighing 32 tonnes, were transported to the breakwater site by a specially-built broad gauge railway line. The 315 m long Breakwater Pier and its railway line were designed by eminent British harbour engineer Sir John Coode. When completed in 1890, it was one of Victoria's most substantial structures. Much loved by the residents, it has become an icon of Warrnambool. The Pier is also where seals and stingrays can often be spotted.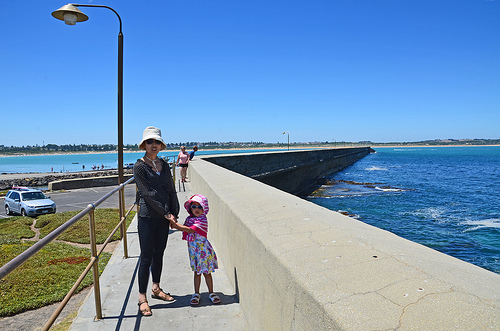 An intriguing feature of the breakwater is a group of white, large domes at breakwater rock. These used to be an underground aquarium that was built in 1971 and housed about 55 species of fish and shellfish caught within a 40-mile radius of Warrnambool. It also displayed seashells from all over the world and had a marine museum exhibiting antiques from the Warrnambool area. Its major attraction is the Octopus tank, where the octopuses had bred 3 times – a rare occurrence in captivity. Since its closure, many suggestions have been made about the potential to reuse the space as a restaurant, to create another aquarium or as a venue for watching the penguin parade on Middle Island.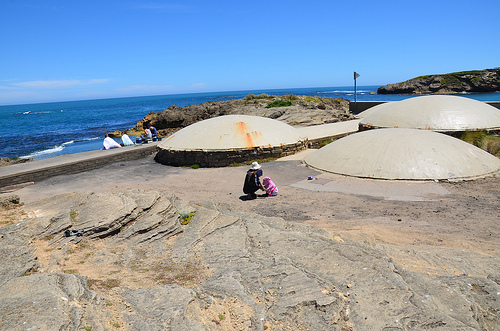 Stingray Bay and Merri River
Just beyond the breakwater is Stingray Bay – a small, beautiful sheltered bay offering safe swimming at the mouth of the Merri River.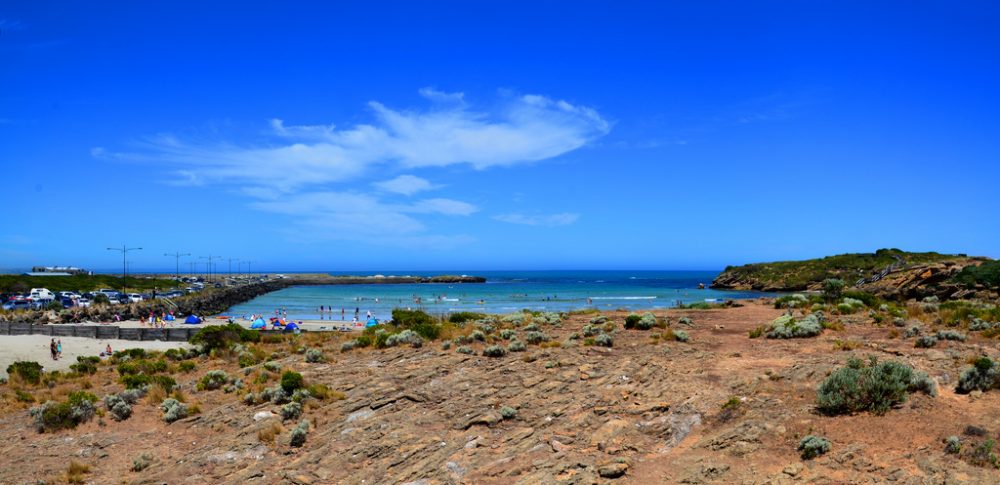 The Merri River lies to the west of the city, meandering through wetlands before emerging at Stingray Bay in the Thunder Point Coastal Reserve. The Merri River is regarded as one of Victoria's finest brown trout streams.
A very short distance offshore are 2 islands, Merri and Middle Island. Middle Island is a wildlife sanctuary with wooden walking paths, accessible by wading at low tide. From August to February, Middle Island is home to a breeding colony of Little Penguins and Short-tailed Shearwaters.

The once thriving penguin colony of over 600 birds in 1999 has been decimated by fox and dog predation, reducing the population to below 10 in 2005. A world-first conservation trial using Maremma Guardian Dogs to protect penguins was launched in 2006. This program is proving successful and the breeding colony is slowly growing with a current population estimate of at least 60 penguins.
Thunder Point Coastal Reserve
Stingray Bay is at the eastern edge of Thunder Point Coastal Reserve which comprises the land to the west of the Merri River estuary.
It contains an Aboriginal midden deposit consisting of numerous distinct layers dating back some 3000 years. There are also walking tracks, rock pools, native birds, tiny inlets and lovely views over the ocean and rocky shoreline. It is a popular spot for fishing, skindiving and birdwatching.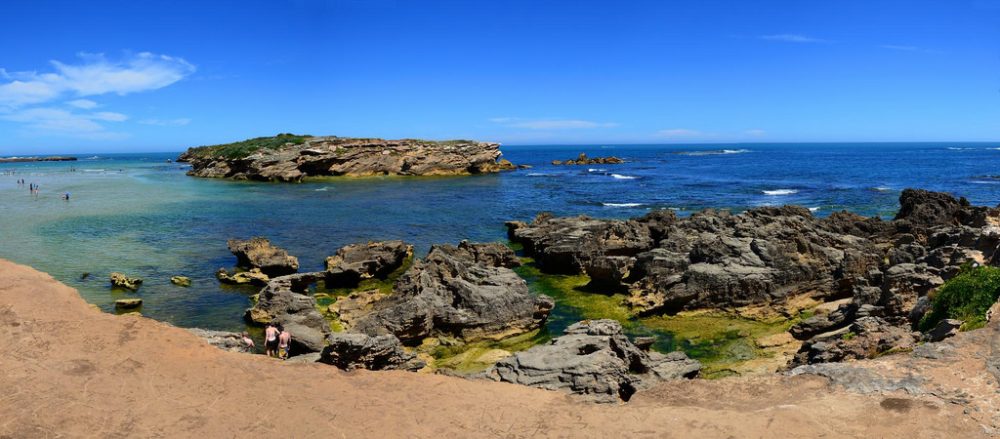 Pickering Point (S38.39761, E142.46956) provides interesting shore diving on rocky reefs to 8 m. Many local divers catch rock lobsters and abalone on these reefs, and there are always plenty of reef fish and invertebrates around.

To go to Thunder Point Coastal Reserve, from Viaduct Rd turn left into Stanley St which leads across the river. At the T-intersection, turn left into McDonald St which leads to a lookout at the reserve. Alternatively, a footbridge over Merri River from Viaduct Rd allows you to cross over to Thunder Point Coastal Reserve.
Lake Pertobe Adventure Playground
This 20-hectare award-winning adventure playground is a year-round family attraction, constructed on reclaimed swamp land. It is a paradise for kids with giant slides, flying foxes, a timber maze, swings, a fort, paddleboats, small family motorboats and canoes.

There is a lake with suspension bridges leading across to islets and lovely walking tracks around the lake where many of the birdlife can be viewed from bird hides specially placed around the lake edge.
The park features acres of lawn area, delightful picnic areas and sheltered BBQ facilities. The Lake Pertobe precinct is also home to other sporting facilities such as lawn tennis courts, mini golf, an athletics track and skateboard park.

During summer, a carnival operates nightly just opposite the lake area with amusement rides and side shows.
Other Attractions
We only spent about 3 hours in Warrnambool but there are so many things to see there that we plan to return one day for a longer stay. In fact, many people visit Warrnambool during winter for whale watching and for the Fun4Kids Children's Festival, Australia's biggest children's festival. The following sites provide information on what to do and see in Warrnambool:
Site 1, 2, 3,