We brought our kids to the playground at Cherry Lake one evening after dinner. Our parking location is almost always at the northern end of Fresno Street rather than the carpark off Millers Road. This location is nearer to our house and we enjoy walking the scenic meandering trail to the playground. Now, the Millers Road carpark is closed for major improvement works so more cars are using the parking space around Fresno Street's roundabout terminus.
There is a toilet block just beyond this parking space which was upgraded last year from a green-coloured timber toilet to a modern, automated toilet. This is shown in the photo below.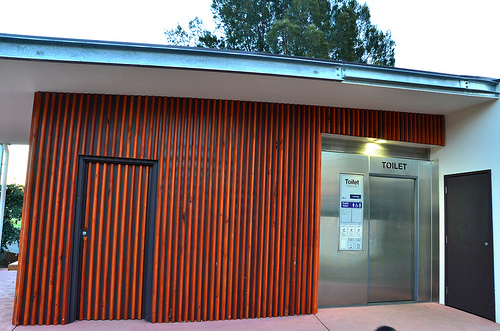 Presumably, the modern toilet is easier to maintain and offers better lighting and security. My two kids are very fond of pressing buttons such as the buttons at traffic light junctions. My 2-year old son immediately ran to the toilet, pressed the button, went inside and locked himself inside the toilet. This happened so fast that we could not stop him. We tried pressing the external button and looked for other alternatives to no avail – the door just refused to open. It was 7 p.m. on a Sunday so nobody will be around at the Council's office to respond to emergencies. Just when we started panicking, the door opened. My son had managed to release himself by pressing the button inside the toilet. This is a lesson we have learnt that we must be extra vigilant in the future when in the proximity of a modern toilet.
On a side note, I was first introduced to the modern toilet last year by a 5-6 year old kid. This toilet is also at Cherry Lake but near the barbeque facilities at the carpark off Millers Road. We were attempting our first barbeque with our friends. When I walked to the toilet, this kid quickly ran before me and eagerly gave me a demonstration of how to open and close the door, flush the toilet and use the water. My wife told me when she first used the modern toilet, she could not figure out where to open the water tap to wash her hands. It was my 4-year daughter who taught her how to do so.