Gordon Lescinsky came to Australia from the United States in 1992. He is an avid bushwalker. Within a week of arriving in Melbourne, he felt the need to get in touch with nature. He did not have a car at that time. The hiking trail furthest from Melbourne that he can get to by train is Ferntree Gully. When he decided to embark on his journey that day, he did not know that he was making a decision that would change his life.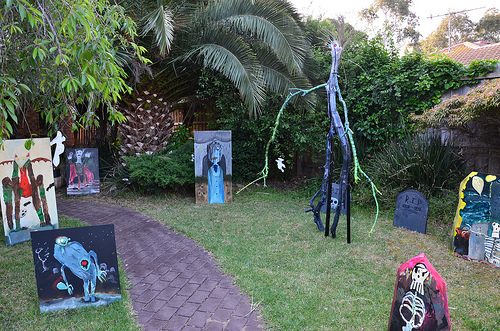 Gordon is a nature lover and enjoys birdwatching. He was admiring the beauty of the local birds and as he scanned across the forest, his vision became fixated on one bright spot where the queen of the lot stood. She is none other than Sandra Wilson. Sandra happened to return from a camping trip that day and decided to take a walk in the forest with her friend. Perhaps, it is destined that two strangers from opposite parts of the world should meet in this way.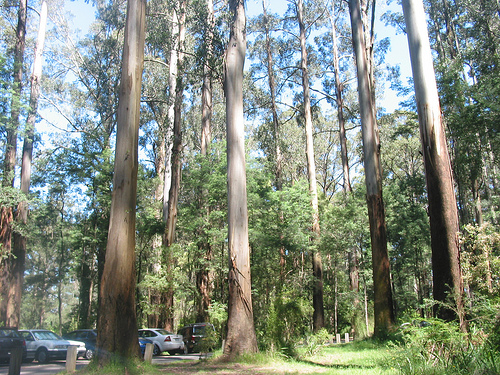 It was love at first sight and since this chance encounter, they would often meet in the Dandenong Mountains to have Devonshire Tea, watching colourful parrots and enjoying the view of the majestic Mountain Ash Trees. These shared memories were cherished to this day, over some 20 years.
| | |
| --- | --- |
| | |
How did the story continue? Well, they are now living happily in Altona Meadows with two sons, Julian (aged 14) and Jesse (8). When I posted the Altona Halloween photos on Facebook three days ago, I received a message from Sandra whether I would like to visit their house to view their Halloween art pieces. And I had better be quick as Gordon will be moving these pieces back to storage in the attic before heading off to Wilsons Promontory for kayaking during the long weekend. They will never miss taking advantage of long weekends even during the chilly winter to engage in outdoor nature activities. And this will be a much-needed break from the hectic of the last few weeks and before Sandra immerses herself in her role as a newly-elected councillor.
| | |
| --- | --- |
| | |
Gordon has a Bachelor of Fine Arts from Columbia University and a Master of Fine Arts in Electronic Visualization from the University of Illinois. With such a pedigree in the arts, it is not surprising that his two sons will be influenced. Nine years ago, his two sons started painting the figures (shown in this post) for Halloween and continued to do so every year. Halloween is big in America, celebrated by every household. Gordon too brought the tradition over, long before the festival gained popularity here. He would leave his sons to exercise their artistic imaginations, only touching up at the end and mounting the pieces for support. The following was the first piece done by his elder son Julian when he was 5 years old.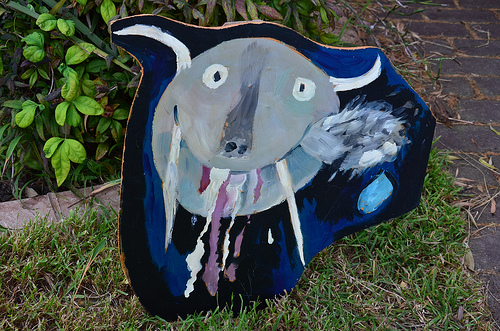 His sons are fascinated by the Slender Man, a supposedly legendary figure popularized by a "documentary" video hosted on YouTube a few years ago. Gordon told me every kid knows about the Slender Man as these videos are widely shared globally over the internet. There appears to be some association between the Slender Man and Halloween, which I am too sleepy now to figure out.
Anyway, Gordon salvaged the branches from a tree in his back garden and fashioned them into the torso and limbs of the Slender Man. His sons helped with putting a coat of paint onto the slender figure. Apparently, the whole family is very proud of this masterpiece.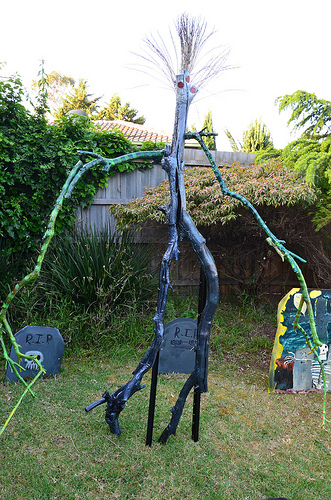 Gordon and Sandra lamented that because their house is situated in a "close" (a circular terminal road), they hardly receive trick-or-treat participants and hence, they are unable to share these pieces of works with others. They wish there could be more visitors to appreciate these works. Gordon will love to loan these pieces to other households for display during Halloween.
Hopefully this post may raise awareness and result in more people visiting their house at 4 York Close, Altona Meadows during the Halloween Festival next year.