We visited the Williamstown Festival this afternoon. We had visited the Festival a few years ago and could recall there were many people and cars, with part of Nelson Place turned into a pedestrian boulevard. We had hence expected it would be difficult to find a parking space today.
However, we were greatly surprised that Williamstown was pretty quiet with abundant parking lots available. In fact, the number of people seemed only slightly more than on a typical weekend. My wife asked me whether I could have remembered the dates of the Festival wrongly. I thought that my memory could not have been so bad. But there was neither crowd-control police nor any festival banner. I did manage to spot the word "Festival" somewhere at the Commonwealth Reserve, which reassured me that the Festival was on.
A key reason for the visit is to see the old ship "Enterprize". Unlike HMAS Castlemaine which is permanently docked as a museum at Gem Pier, "Enterprize" only appears on special occasions. When we reached Gem Pier at 2.50 p.m., "Enterprize" had already departed at 2.30 p.m. for its 1-hour voyage to Geelong. However, we did manage to see it upon its return.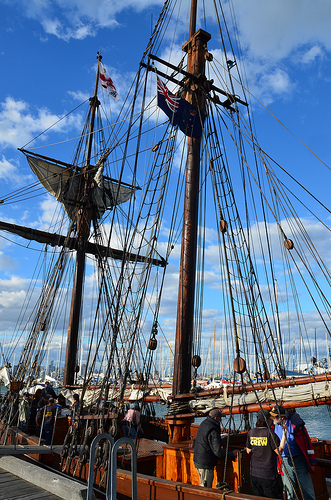 We brought our kids to a children animal farm at Commonwealth Reserve. We were probably among the last visitors as the farm started to pack up soon after 3 p.m. I was busy recording videos of my kids patting the animals. My mother told me there was a small pig. I told her I did not observe this. Then she told me she saw a gorilla. I asked her where it was and she said she saw it on the reserve. I was doubtful whether she really saw a gorilla, then I saw many children running towards something.
There is supposed to be a "Lantern Parade" at the Rotunda that starts at 4.45 p.m. I learnt that there will be a few bands performing. After finishing our packed fruits at 4.15 p.m. and noticing there was hardly any potential audience at the Rotunda, we decided to head home rather than wait for another half an hour.