You can find the largest Christmas tree in Altona at the corner of Pier Street and the Esplanade, marking the entrance to Logan Reserve and near the playground. If you are not observant enough, you may not realize that it is a Christmas tree. But when darkness comes, it comes alive with all the lights turned on and sparkles like a jewel in this night garden.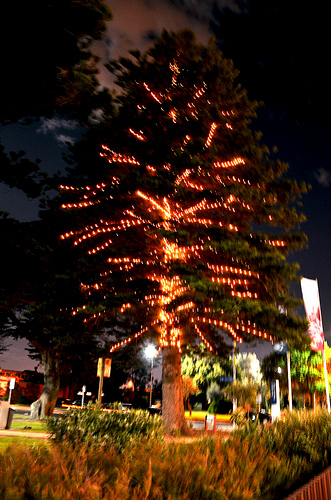 Not to be mistaken, this Christmas tree is well living and breathing! My wife is adamant that it is not a Norfolk Island Pine that adorns the long coast of Altona. She believes that it is an "actual" Christmas tree – the same tree species that is used for Christmas decorations. However, I found out from Wikipedia that Norfolk Island Pines are also used as Christmas trees. The most common tree used for Christmas trees in Australia is Pinus radiata, also known as the Monterey Pine.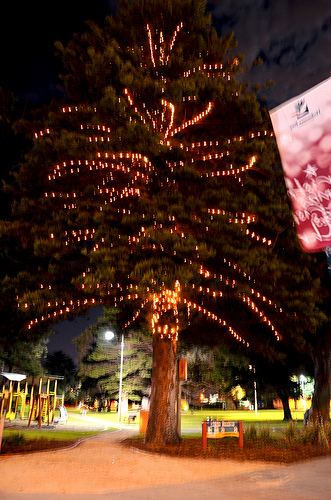 There is a 56-hectare farm at Moorooduc in the Mornington Peninsula called the Christmas Tree Farm, which sells Christmas trees direct to the consumers. Many families treat the visit as a day outing. The farm has Christmas-themed buildings, decorations and entertainment, including Santa and sausage sizzle during the weekend. The owner Craig McClellan said: "We used to do tractor rides for the kids but then the fun police put a stop to that." (Ref)
I will like to wish everyone a Merry Christmas and Happy New Year!