When my Singapore cousins were here about two weeks ago, I brought them around Altona. They were fascinated by the "Under the Sea" exhibition displays adorning the Louis Joel Centre. This exhibition is part of the Art in Public Places program managed by Hobsons Bay City Council since 2004 for exhibiting the artwork of western region artists in businesses and various venues across Hobsons Bay.


Tip: Click on the photo to enlarge it!
The Louis Joel Centre is celebrating the sea this year. Altona is a coastal village, the beach is a favourite summer hotspot and the sea swarms with professional and local fisherman for 60% of the year. We love the water, the beach and the sports relating to the sea. We need to respect our beaches and the aquatic plant and creatures in our waters.

The "Under the Sea" exhibition showcases 100 fish and 15 mermaids – stunning pieces of art created by various local communities, including schools, kindergartens, artists, senior citizens, people with disabilities and mental health problems and many other individuals who live or work in Hobsons Bay. Many of the schools worked on a recycling theme, creating their "recycled fish" from bottle tops and plastics.
If you have yet to see a mermaid in Altona waters, you will be sure to see several along the Mermaid Walk.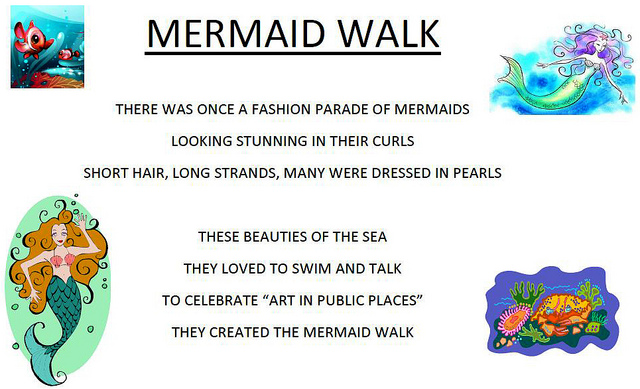 Since the opening of this exhibition, many people have come past the exhibition and enjoy the creative work of so many locals. Young parents had come along with their toddlers who had a great time looking at the sea creatures and playing with buckets and spades, sand and shells. A local artist sat and did some sketches of the exhibition. The seniors across the road remember childhood stories from Malta, Greece, England and country Australia.
If you have not yet visited, come before the tide goes out (on 20th April), as encouraged in the following poem on the Community Fish.